Shell Material
DRYRIDE Ultrashell™ 2L Fabric – DRYRIDE Ultrashell™ fabrics are water resistant and breathable to keep hands dry and protected
Membrane
DRYRIDE Insane Membrane™ 2.0 – This extra-thin, super waterproof membrane protects hands from wind and water while wicking away heat-robbing sweat. 2.0 offers a higher level of quick-wicking, waterproof performance.
Insulation
Thermacore™ Insulation – Thermacore™ is a synthetic low-bulk insulation material that is easy to maintain has waterproofing abilities and is breathable.
Lining
Removable DRYRIDE Ultrawick™ Stretch Jersey Liner – Highly breathable and fast-wicking, DRYRIDE Ultrawick™ fabrics feature microscopic fibers that pull heat-robbing moisture away from your skin before they crash your party. Stretch properties enhance mobility.
Fixed Fleece Lining – Quick-drying, soft, and technical, Burton's fleece lining combines warmth and the ability to keep you dry in a low-bulk package.
Palm
Screen Grab® Toughgrip™ – This Burton-exclusive PU synthetic leather has the tech built right in, meaning it will never fray, wear out or wash off. Any device, any finger - you get total touchscreen control without ever exposing your fingers to the cold.
Fit
Ergonomic Pre-Curved Fit – The superior dexterity of this articulated fit means your hands will always be warm and nimble, no matter what kind of action you get into.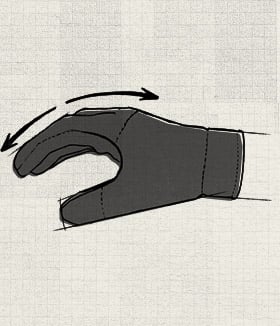 Features
Heater/vent pocket with free pair of Little Hotties® hand warmers