Frame/Shock
ALUXX SL Aluminum Construction – Extremely lightweight framesets featuring high-performance strength-to-weight ratios, predominantly features 6011 alloy. A heritage of craftsmanship combined with unmatched manufacturing capabilities gives Giant the unique ability to monitor every step of the aluminum frame-building process. Through Giant's cutting-edge materials science, proprietary forming techniques, and attention to detail, we are constantly advancing aluminum performance to create bikes that are lighter, stronger and stiffer. The difference can be felt in the ride. Every aluminum bike bearing the ALUXX Aluminum Technology label must live up to the highest standards and meet the tightest tolerances of any aluminum frame in the world.
Advanced Forged Composite Technology (Upper Rocker Arm) – A state-of-the-art high-pressure molding process is used to produce complex-shaped carbon fiber components that are lighter, stiffer and stronger than similar components made from aluminum. This technology is used in critical performance parts such as Maestro Suspension rocker links.
160mm Maestro® Suspension – Whatever off-road adventures you seek, Giant's Maestro Suspension helps you make the most of your efforts. Control, traction, comfort, speed -- you get more of everything with Maestro. From fast and efficient XC bikes to long-travel downhill setups, Maestro is an adaptable full-suspension platform that offers smooth, active rear suspension for any type of trail and all kinds of terrain.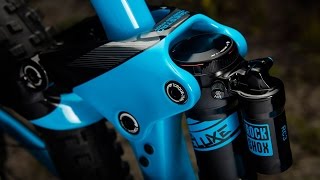 RockShox Deluxe RT – How do you improve on the success of a rear shock that has received critical acclaim for its stellar performance and supple feel? It's simple. You rewrite the rules, throw existing design constraints out the window and focus solely on the best possible performance solution. We took the proven damping performance of the popular Monarch series and introduced it to a new metric-sized chassis. The result is truly Deluxe, ready to redefine your ride.
Shock Adjustments – 2 Position Compression (Open / Pedal) | External Rebound | Air Spring Pressure
Trunnion Mount – The latest Anthem and Trance off-road models feature updated Maestro Suspension systems with a new Trunnion Mount shock and Advanced Forged Composite rocker arm. The Trunnion Mount allows for a longer shock shaft, which produces a lower leverage ratio and smoother ride performance. It also allows for shorter chainstays to improve quickness and agility on the trail. The Advanced Forged composite rocker arm weighs less than the previous aluminum version while being stiffer and stronger. Together, these innovations result in the following core benefits
OverDrive – OverDrive provides up to 15 percent more torsional steering stiffness than straight steerer-tube designs. This translates into much more accurate steering input from a rider's hands, through the handlebar and stem, and down to the front wheel. Whether hammering uphill or carving through a corner, OverDrive transmits input directly to the front wheel for more precise handling.
Fork
RockShox Yari RC Solo Air – Yari brings Pike's and the new Lyrik's acclaimed look and proven features, such as the 35mm chassis, Fast Black upper tubes and Solo Air™ or Dual Position Air™ spring systems, to a wider audience. The new refined Motion Control™ IS damper features Rapid Recovery™ rebound and its high speed compression circuit is tuned to match the feeling of the Charger Damper™.
Fork Adjustments – Low Speed Compression from Open to Firm | External Rebound | Air Spring Pressure
Drive Train
Shimano SLX 1x11 Drivetrain – A high performance groupset that delivers enhanced stability, maneuverability and shifting efficiency.
Brakes
Shimano Deore Hydraulic Disc Brakeset – Powerful and responsive braking for a wide range of riding styles, from XC to all-mountain. Durable construction with a cool integrated appearance with lightweight caliper. Smooth and predictable control with balance of power and rigidity. Heat insulation pad and piston. ICE TECHNOLOGIES pad compatible. Stable brake performance in any condition.
Wheel Set
Maxxis Shorty Front Tire – The DH version of the Maxxis Shorty was an instant favorite of World Cup DH racers. The single-ply version offers trail riders the same traction in a much lighter package. All trail versions of the Shorty feature the Tubeless Ready casing and 3C MaxxTerra compound.
Maxxis High Roller II Rear Tire – The open and aggressive tread design gives the High Roller II excellent soil penetration and mud clearing ability. A square profile provides a solid, consistent feel across the knobs. Modified knobs on the shoulder and center improve braking performance and traction on hard surfaces. When gravity pulls you downhill, rely on the High Roller II to keep you upright.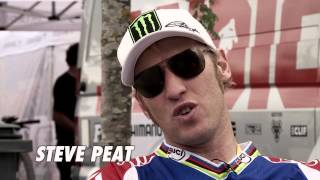 Additional Features
Giant Contact Switch Dropper 30.9mm – Trail conditions change in the blink of an eye -- transition from steep climbs to gnarly descents and never skip a beat with the all-new Contact SL Switch seatpost.
Shipping Information
Oversize Item – can only be shipped via UPS Ground within the continental U.S.