Frame/Shock
ALUXX SL Aluminum Construction – Extremely lightweight framesets featuring high-performance strength-to-weight ratios, predominantly featuring 6011 alloy. A heritage of craftsmanship combined with unmatched manufacturing capabilities gives Giant the unique ability to monitor every step of the aluminum frame-building process. Through Giant's cutting-edge materials science, proprietary forming techniques, and attention to detail, we are constantly advancing aluminum performance to create bikes that are lighter, stronger and stiffer. The difference can be felt in the ride. Every aluminum bike bearing the ALUXX Aluminum Technology label must live up to the highest standards and meet the tightest tolerances of any aluminum frame in the world.
Advanced Forged Composite Upper Rocker Arm – A state-of-the-art high-pressure molding process is used to produce complex-shaped carbon fiber components that are lighter, stiffer, and stronger than similar components made from aluminum. This technology is used in critical performance parts such as Maestro Suspension rocker links.
90 mm Maestro® Suspension – Whatever off-road adventures you seek, Giant's Maestro Suspension helps you make the most of your efforts. Control, traction, comfort, speed -- you get more of everything with Maestro. From fast and efficient XC bikes to long-travel downhill setups, Maestro is an adaptable full-suspension platform that offers smooth, active rear suspension for any type of trail and all kinds of terrain.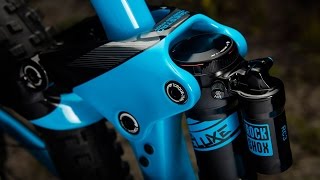 Fox Float Performance Elite – FLOAT DPS shocks have fewer adjustments than Factory Series (no Open mode adjust tuning range), and have black anodized air sleeve and body instead of Genuine Kashima Coat. A Performance Elite graphics package ties in the black-on-black look.
Shock Adjustments – 3-Position Lever (Open, Medium, Firm) | Open Mode Adjust Tuning Range (1, 2, 3) | External Rebound | Air Spring Pressure
Trunnion Mount – The latest Giant off-road models feature updated Maestro Suspension systems with a new Trunnion Mount shock and Advanced Forged Composite rocker arm. The Trunnion Mount allows for a longer shock shaft, which produces a lower leverage ratio and smoother ride performance. It also allows for shorter chainstays to improve quickness and agility on the trail. The Advanced Forged composite rocker arm weighs less than the previous aluminum version while being stiffer and stronger. Together, these innovations result in the following core benefits.
OverDrive – OverDrive provides up to 15 percent more torsional steering stiffness than straight steerer-tube designs. This translates into much more accurate steering input from a rider's hands, through the handlebar and stem, and down to the front wheel. Whether hammering uphill or carving through a corner, OverDrive transmits input directly to the front wheel for more precise handling.
Fork
Fox Float 32 Step-Cast Performance Elite Remote – The distinct shape of the lower leg design isn't just for looks. The 32 Step-Cast (SC) chassis uses a narrow stance to save weight and the step design makes room for the spokes and brake rotor. The 32 SC features 32 mm upper tubes and ample bushing overlap for a quality ride and the hollowed out lower legs provide even more weight savings.
Fork Adjustments – FIT4 3-Position Lever (Open, Medium, Firm) | Open Mode Adjust | External Rebound
Drive Train
Truvativ Stylo 6k Eagle Crankset – The Stylo 6K crankset delivers consistent performance every time out. Featuring SRAM's X-SYNC™2 tooth profile chainring, the Stylo crankset is engineered for complete chain control. Each tooth's thickness is precisely toleranced and controlled to work seamlessly with the SRAM chain's inner and outer links.
SRAM GX Eagle™ Chainring – The radical new look and feel of the X-SYNC™ 2 Eagle™ chainring is a direct result of SRAM drivetrain engineers studying the performance and wear characteristics of thousands of X-SYNC™ chainrings. We subjected every size of chainring to untold environmental and mechanical tortures, abuse and neglect, in both lab and real-world settings, to come up with a chainring that would augment the Eagle™ drivetrain's performance in all conditions. The longer, positive-rake tooth shape has been designed to work perfectly with the new Eagle™ chain to increase chain retention and overall pedaling efficiency, while decreasing friction, noise and wear.
SRAM XG-1275 Eagle™ Cassette – Ride anywhere with this wide range XG-1275, 10- to 50-tooth Eagle™ cassette that provides the right gear. Fast on the flats. Control on the climbs. Dictate your own pace, anywhere. Only Eagle™ technology is the 1x drivetrain engineered for infinite freedom. FULL PIN™ technology uses lightweight, stamped steel cogs held together with high-strength stainless steel pins. The result: a cassette that's light and strong. The open design similar to the X-DOME™ cassette aids in mud clearance, giving you cleaner shifting performance and longer component life. New X-GLIDE™2 improves both inboard and outboard shifting, as well as chain retention.
SRAM GX Eagle™ Trigger Shifter – The challenges of riding a mountain bike should be kept to roots, rocks, mud, trees, jumps, drops and breathing. Putting total control of your gear selection into the thumb of one hand, it's simple to find the right gear, right now. The GX Eagle™ trigger shifter is the control center of the Eagle™ drivetrain. Its internal works have been updated to include a 12th gear, and improved to enhance trigger feel, precision and durability.
SRAM GX Eagle™ Rear Derailleur – This new GX derailleur not only answers the Eagle™ drivetrain's need for greater capacity, but it's also the next evolution of the proven, 1x-specific X-HORIZON™ design. The larger, 14-tooth X-SYNC™ lower pulley allows 10- to 50-tooth cassette, and also adds to Eagle's overall smooth-pedaling feel. The new, Type-3 ROLLER BEARING CLUTCH™ features a smoother torque curve for a quieter, more consistent operation and feel. CAGE LOCK™ has been moved back and out of the way, protecting it from trail debris. And a redesigned, robust mounting system further improves the Eagle™ derailleur's performance and overall durability.