Demo Skis & Snowboards at evo Seattle
With so many new skis and snowboards released this year, and tons of new technology, we know it can be hard to pick just the right one. This is your chance to end your internal struggle of debating between camber, rocker, or rocker/camber/rocker profiles, because you can try all three!
evo in Seatlle is excited to offer a full fleet of men's and women's
skis
and
snowboards
you can demo this season for you to try them to help you decided which one would be the best for you. And better yet, you can apply the demo rental cost towards the purchase of a new pair of skis or snowboard at evo.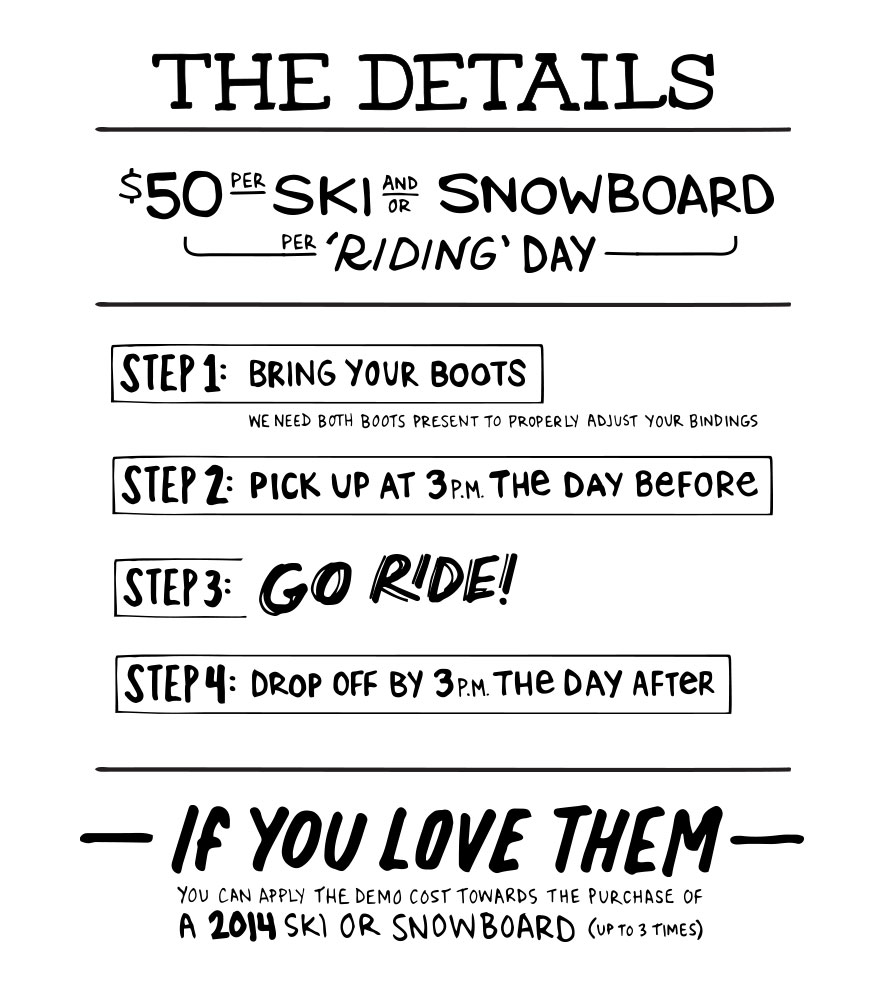 Reservations:
We take reservations in person at our Service Counter or over the phone at 206.973.4470. We cannot guarantee the item you're looking for will be available but we'll do our best to accommodate your requests.
Price:
$50 pair skis/snowboard per "riding" day
Remember:
Bring your boots. We need both boots present to properly adjust your bindings.
Pick up your demo after at 3 pm the day before you head to the mountain.
Go ride!
Drop off your demo by 3 pm the day after you shred.
Example: Pick up demo at 3 pm on Friday, Ski/Ride on Saturday, Return your demo by 3 pm Sunday.
For all the details and rules, please read the FINE PRINT below.



As 2014 skis or snowboards go on sale, your demo credit will go on sale for the same sale amount.

Example: 2014 ski/board goes on sale for 20%, two demo credits value =$80 (from $100/ 20% off your credit)

All snowboards must be demoed with provided binding.
Demo skis or snowboards cannot be used in the terrain park.
You are responsible for any damage incurred while product is being used and repair costs will be charged to the credit card on file.
You are responsible for the full retail price if a ski or snowboard is lost, stolen or damage is unrepairable. The full retail price of ski and binding and/or snowboard and binding will be charged at the time of drop-off.
A credit card imprint and a valid driver's license must be provided at the demo pick-up time.
To get demo credit applied to a 2014 ski or snowboard purchase, the person demoing must have an original copy of the demo paper work.
No debit cards. A credit card imprint must be taken at the time of check out.
If a demo is returned late: An extra day and half, $75.00 fee, will be charged to the credit card on file. If the demo has not been returned within 48 hours of the due date, the full retail price will be charged to the credit card on file.
Demo and Late fees will not be refunded.