Wetsuit Thickness Guide and Temperature Chart
---
evo Size and Buying Guides - We have a one of the largest selections of
wetsuits
on the web, a super
knowledgeable staff
and expert guides.
Contents
How Wetsuits Work
---
A wetsuit is a neoprene insulation suit made for warmth and protection in watersports. It functions by trapping a thin layer of water between your body and the suit. This layer of water is warmed by your body which prevents you from losing too much heat while in the water. Water molecules conduct energy (heat) 25-40 times faster compared to air molecules. For example, on a 60 degree day you probably feel comfortable outdoors with jeans and a shirt whereas you will probably start to shiver within minutes while swimming in the same temperature water.
Wetsuits are not meant to keep you entirely dry. Neoprene is made of small closed cells that are filled with air which provide insulation against cold water by trapping heat in. The thicker the suit's neoprene, the warmer the suit will be because it has more heat trapping insulation. It is important to research the water temperature (keeping in mind the different seasons and swells) in the region where you will primarily use your wetsuit. If the temperatures are cold enough to make your extremities go numb, think about using boots, gloves and hoods too.
Wetsuit Thickness
---
One of the most important aspects when considering wetsuit warmth is the thickness of the neoprene. Wetsuit thickness is measured in millimeters, represented with two or three numbers separated by a slash. The first number represents the thickness of the neoprene in the torso area, the second number represents the thickness of the neoprene in the extremities (or just the legs if there is a 3rd number), and the third number (if present) represents the neoprene thickness in the arms. The thicker neoprene (the first number) is used for your torso in order to maintain your core body heat. Your core heat is extremely important to maintain in order to prevent hypothermia. The thinner neoprene (the second/third numbers) are used for your extremities. The thicker the neoprene, the more warmth but less flexibility; thus the thicker neoprene is placed where you need less flexibility (your core) and the thinner neoprene is used where your body is constantly in motion (arms and legs).
Shop wetsuits by thickness
Wetsuit Temperature Guide
---

In addition to water temperature consider the following:
Air Temperature
Wind Speed
Your Sensitivity to Getting Cold
Activity
Please note: For cold air temperatures, more wind, an activity with less movement or if you get cold easily, consider a thicker wetsuit. These are general temperature guidelines. Many brands will provide their own temperature recommendations that may differ slightly from those listed above.
How Should Your Wetsuit Fit?
---
Fit is a very important aspect to consider when buying a wetsuit. If your wetsuit does not fit properly it will not be able to keep you warm or allow you the mobility you need for your sport. Consulting brand-specific size charts for wetsuits is the best way to start finding the correct wetsuit fit. A wetsuit should fit like a second skin with no sagging in the back or excessive bunching in the arms or legs. It should fit tight in order to keep only a thin layer of water between your body and your suit. If your suit is loose, an abundance of water will flush through, making the suit less effective at keeping you warm. A wetsuit should also fit snugly around your neck (many people wear a rashguard underneath their wetsuit to prevent a neck rash). Most women wear a swimsuit underneath for extra protection and support.
Fit Checklist
After you have your wetsuit on there should no excess room, including the torso, crotch, shoulders and knees. A proper fitting wetsuit will be hard to put on when dry.
Lift your arms over your head and stretch out your shoulders. This move should only be slightly restricting. If you feel a lot of pressure during this movement then the suit is too small.
You should be able to squat down and move your arms easily (if under a 5/4mm).
*Each brand has a slightly different fit; make sure to shop for your body type. Check out our guide to How to Put on a Wetsuit.
Wetsuit Seam Seals
---
Flatlock Stitching
This stitch is recommended for use in water that is above 62°.
This stitch will lie flat against your body, causing no discomfort.
This seam may let in a little water.
Sealed (Glued and Blindstitched)
This stitch is recommended for use in water that is 55° and higher.
These stitch panels are glued and then blind stitched. Blind stitching does not go all the way through the neoprene. Instead, the stich comes out the same side it went in, making it watertight.
This seam will let in very little water.
Sealed and Taped (Glued, Blindstitched and 100% Taped
This stitch is recommended for use in water that is 55° and below.
This stitch is glued and then blind stitched but it also contains interior seam taping. The interior taping will add durability, reinforce the seam, and prevent any water from seeping through.
Wetsuit Zippers
---
There is more to getting into your suit than you may think. There are essentially two different types of zippers: back and chest zippers.
Back Zippers
This is the classic solution with the zipper going down the length of the spine with a long cord attached so you can zip yourself in and out. The advantage of a back zip is that, of the two zipper positions, it is typically the easiest to enter and exit, which is a big deal when you are trying to get into something that is skin tight. The disadvantage is that water can get through the seams on the back zip, which in cold water can become a major deterrent (think ice cubes down your back). Many companies have come up with their own flush guard technologies to reduce this from happening (i.e. Quiksilver Hydroshield). Also, when you are bending forward, the suit will go taut in the back and the zipper lacks give, which may restrict movement.
Chest Zippers
Chest zip wetsuits are entered through a zippered cutout around the neck and you drop down into the suit through the neckline, finally pulling the neck cut over your head and zippering at the chest. Chest zips are the trickier of the two types to enter and exit. The chest zip is superior at keeping water from penetrating the suit both through the seams and the neckline. The chest zip may also be a more comfortable fit once on with a snug neck that is less likely to cause rashes and a zipperless back with a greater level of flexibility.
Types of Wetsuits
---

Full Wetsuits

A full wetsuit covers your entire body - these suits can be found in many different thicknesses made for different water temperatures. Full suits cover the entire body including arms and legs up to wrists and ankles.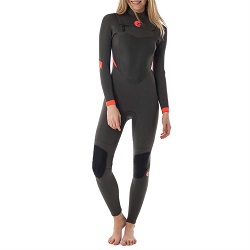 ---
Shorty Wetsuits / Springsuits
A neoprene suit made with short legs and arms that is primarily used in warmer water temperatures.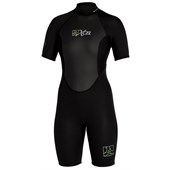 ---
SHORT JOHN WETSUITs
A neoprene suit that is a mixture between a shorty suit and a long john suit primarily used in warmer water temperatures.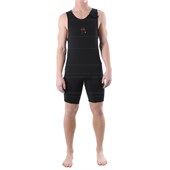 ---
LONG JOHN WETSUITs
A spring suit that covers your legs and body but is without sleeves.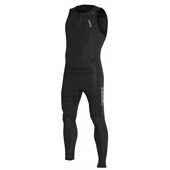 ---
TOPS
Tops or vests made out of 0.5 mm-2 mm neoprene that are primarily used for warm weather water sports.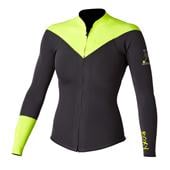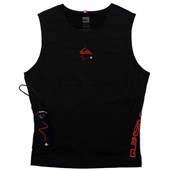 Shop Wetsuit Tops
---
Bottoms
Neoprene pants, leggings or shorts primarily used in warmer water temperatures.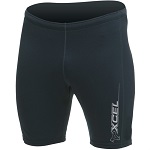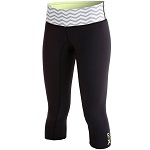 ---
Rashguards
A light shirt made out of Lycra or other UV resistant materials that is used to protect against sun and sand, sometimes worn under a wetsuit to prevent rash.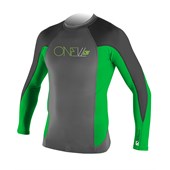 ---
---
Some wetsuits use FAR infrared technology to keep you warm. This technology has two forms: Suits featuring mineral-enriched fibers that capture your body heat and convert it to FAR Infrared rays in order to keep you warm are the most common, while some companies offer more powerful battery powered heated undershirts and suits that use a small controller. A FAR Infrared Ray is a spectrum of sunlight with a wavelength between 4-1000 microns. NASA discovered that a Far Infrared Ray between 6-14 microns is capable of penetrating the human body, raising body temperature while improving circulation and stimulating cell growth.
FAR Infrared technology benefits the human body in the following ways:
Heat penetrates deep into your core
Provides warmth
Relives joint pain and stiffness
Accelerates metabolism
Improves blood circulation
Stimulates cell growth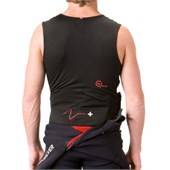 Using this technology with a normal neoprene wetsuit allows you to wear a thinner wetsuit in colder water, increasing your flexibility. Being cold drains your energy and cuts down your time in the water. Normal wetsuits are only able to insulate and reduce heat loss, but these wetsuits actually have the capacity to generate heat. This generated heat will keep your core body temperature up, allowing your heart to continue pumping blood to your outer extremities instead of purely focusing on keeping your core warm. Most heated wetsuits or heated under-articles are controlled by batteries and a small hand controller allowing a maximum freedom of movement.
Wetsuit Accessories
---
In water colder than 60°, wetsuit accessories such as gloves, boots and hoods help you stay warm.
Wetsuit Gloves
Neoprene gloves or mittens for cold water activities. Five finger gloves provide the most dexterity, while mittens are best suited to very cold water. Three finger hybrid models also exist.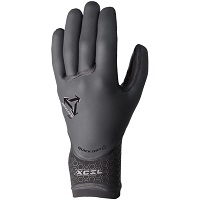 ---
Wetsuit Boots
Neoprene and rubber boots for cold water activities. Wetsuit boots can have a round toe or split toe. External split toe designs have a separate big toe for better dexterity, while internal split-toe models combine the dexterity of split-toe with the warmth of a round-toe design.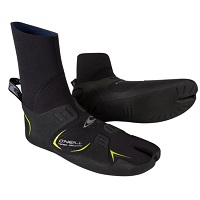 ---
HOODS
Hoods are sold separately but are often attached to suits, too.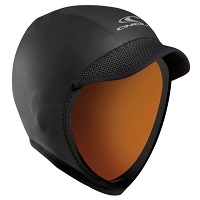 Learn More With Our Other Wetsuit Guides
This is evo. We are a ski, snowboard, wake, skate, bike, surf and clothing online retailer with physical stores in Seattle, Portland and Denver. Our goal is to provide you with great information to make your purchase easy.
Still have questions? Please give our customer care team a call at 866-386-1590, Customer Care Hours. They can help you find the right skis to fit your needs.