Fit
Last: 104mm – Wide
Women's Low Cuff – Anatomic cuff with lower rear support for women's calves for better fit & comfort.
Easy Step In Overlap
Women's Heel Support
Flex
Flex: 70 – Medium soft flex; perfect for less aggressive or lighter skiers.
Liner
My Custom Fit Comfort Liner – Warm and comfortable straight out of the box, with 20% thermoformable foam and Woolmetal interior lining.
Women's Liner – A liner with a specific height and cuff adapted to women's legs and calves.
Shell Materials
Backbone Release – Taken from the X3 Lab, this magnesium piece linking the cuff to the shell provides solid back support & rebound and a progressive forward flex when locked. When unlocked for hiking, releases the cuff on the back for a wider opening and easier heel to toe transition.
Cuff – Mono-Material Polypropylene
Shell – Mono-Material Polyproylene
Ski/Walk Mode
Hike & Ride Walk Mode – Easy to access walk mode with new wider lever for better gripping with gloves on.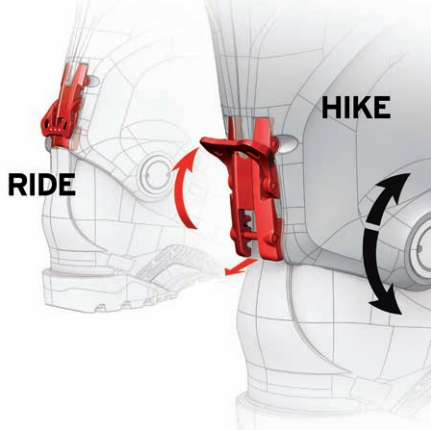 Buckles
2 Micro Aluminum Buckles with Top Ratchet Buckle
Power Strap
35mm Power Strap
Sole
ISO 5355 Sole with Replaceable Toe and Heel Pads
Additional Features
24 mm Oversized Pivot – Better control during edging.