Material
Eco-Friendly Neoprene Upper | 6mm – Solite uses non-petroleum based neoprene with the optimum blend of tear strength, warmth, and flexibility. They purposely avoid "super stretch" grades, which work great for large panels on wetsuits, but tear easily on small-panels in booties.
Natural Rubber Sole Pods – Sourced directly from their factory's own rubber-tree forest, Solite's ultra-thin (<1mm) sole pods provide bare-foot board-feel with protection and abrasion resistance. Small-diamond tread pattern combines great grip on wax/traction pads while still allowing you to shift your feet on the board.
Quick-Dry Thermo Lining – Plush, high-pile neoprene inside lining provides extra warmth, comfort, and stretch while still drying fast.
Tatex Flex Spine – Durable Tatex print "spine" substantially improves durability of neoprene upper when pulling on boots.
Features
Heat Moldable with Boiling Water for the Perfect Custom Fit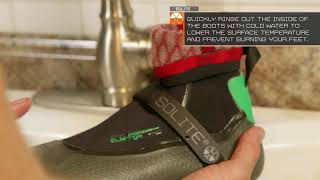 One-Piece Thermo-Foam Sole – Injection molded from their proprietary foam blend, the Solite sole can be heat-molded with boiling water for a perfect custom fit. Seamless construction means no more leaks, more comfort, and more durability. Arch support is integrated into the molded sole for all-day comfort. This patent-pending wetsuit bootie construction makes Solite boots the lightest and warmest on the market. The formula is simple: light foam=more air=more insulation=warmer feet.
Stitchless Upper/Lower Seam – Double-sealed seam between the molded sole and neoprene upper. A waterproof glued inside seam is reinforced with a liquid-weld outer seam for maximum durability and flexibility. This stitchless seam design means more comfort and no stitch holes to leak or rip.
Full Wrap Ankle Strap – The Solite velcro strap-harness wraps completely under and around the sole to comfortably lock the heel in the boot. This full-wrap design eliminates weakness and distortion of the boot common in other strap systems. The molded hook-strap is lighter than traditional velcro with superior hold in wet, cold conditions.
Quad-Sealed Seams – Neoprene seams are glued, blind-stitched, taped on the inside and liquid-welded on the outside for the ultimate in seam strength while still retaining flexibility and stretch.
O-Ring Cuff Seal | 4mm – Seamless o-ring cuff seal provides the best defense against flushing. Unlike other boots with o-ring seals, Solite uses high-stretch double-lining to prevent tears from fingernails.
Pressure-Bonded Heel Loop – For extra durability, Solite heel loops are stitched to a hidden textile patch, then sandwiched with high-strength glue between the boot neoprene and an outer rubber patch. This provides leak-proof durability with no stitches penetrating the neoprene.
Heat Booster Socks Included – Every pair of Custom LTD wetsuit boots include a pair of Solite Heat-Booster split-toe socks. These socks are knit from a quick-dry poly/nylon/Spandex blend and add a few degrees of extra warmth to your boots for really frigid days. They also make putting on/taking off your boots easier by reducing friction, simultaneously improving the lifespan of your boots by reducing stress on seams and materials.
Internal Split-Toe Locks your Foot Inside the Boot for Precise Response
Water Temp
<50ºF
Care
Always rinse thoroughly inside and out with fresh water after every use. Hang to dry.