Lens
6-Base Polycarbonate – Spy's spherical sunglasses are available in 4, 6, 7, and 8-Base."Base Curve" refers to the amount of "wrap" that a lens has, which in turn affects the curvature of the frame. A 4-Base style will have a flat, boxy appearance, while an 8-Base style will provide a sleek, wraparound fit.
Happy Lens™ (Matte Black and Black Colorways only) – Spy Happy Lens™ technology lets in the good long-wave blue light that promotes balance in the body's circadian rhythm, blocks the harmful bad rays, and combines crisp, color contrast-enhancing lenses and Trident™ Polarization for the ultimate viewing experience.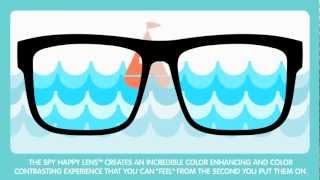 Frame
Built from high quality propionate
58-17-145
Features
Sturdy 5-barrel hinges
Custom metal detailing
Safety Standards
UV Protection – These sunglasses block 98%+ of the Sun's UV rays.
Proposition 65 Warning for California Consumers
This product may contain chemicals known to the State of California to cause cancer, or birth defects, or other reproductive harm.