Tour Mode
Karakoram Interface – Fastest and easiest splitbinding system
Heel Lever – Quick and easy attachment or removal of binding to ride mode interface
Tour Mode Axle System – Independent sleeves that rotate freely on a fixed through axle (similar to a bike axle) for the stiffest and smoothest touring pivot. Plus no more cold fingers or fumbling pins.
Heel Lockdown – Karakoram Heel Lock Down Technology will allow splitboarders to skate out of flat areas, side-step up small hills and traverse demanding side hills. The heel lock down is integrated into the climbing riser wire and base for a simple and unobtrusive design.
Baseplate
Active Joining Technology – Five spring-loaded attachment points create a solid connection between the bindings and Ride Mode Interface. Pre-loading every interface delivers seamless transmission of rider input for the ultimate backcountry experience.
Made from a combination of Alloy Aluminum and Stainless Steel to give you a durable, secure binding
Heel stay pins push through attachment loops driving snow and ice build-up out of the way.
Wide contact points to improve responsiveness between the bindings and board
Straps
Asymmetric Ankle Strap – Asymmetric design adds extra support laterally and increased tweakmobility. Inverse seam construction with EVA padding for maximum comfort.
The "Toe Gap" Rollover Toe Strap – Toe strap can be ridden on tip or rolled over on toe. Split "Toe Gap" locks on and locks you in.
Highback
Ride Stride – Designed to save energy, Ride Stride allows for a -8° forward lean in walk mode for a more natural range of motion. Transition into Ride Mode by simply rotating the forward lean adjuster 90° to you preset forward lean setting.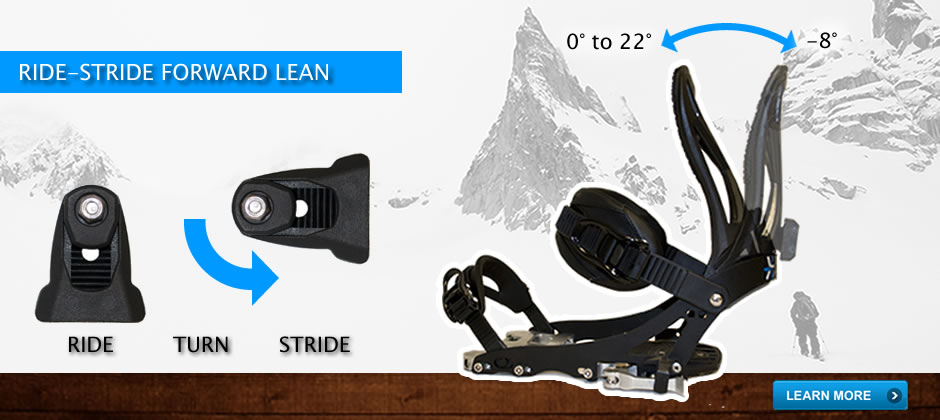 Air Flow design for optimized strength to weight ratio
Power Strap Slots
Additional Features
Uses existing splitboard hole pattern or comes with DIY mounting template