Rocker Type
FreePop Rocker – Flat camber in the mid-section of the boards meets up with rocker in the nose and tail to create a super versatile feel and response. The flat camber zone gives stability and directional response, while the rockered nose and tail give super press-a-bility and playfulness in all types of snow. Great for riders who like to balance creative trick selection with solid all-mountain freestyle performance.

Shape
QuickRip Technology – The goal with QuickRip Sidecut is to create a board that does two things: stay nimble and maneuverable at slow speeds, and maintain power and precision at high speed. This is achieved by integrating two off-set sidecuts that create one sidecut zone in the nose, one between the feet, and one in the tail. Where the center section meets the other two sections, Rome has created Mid-Board Contact Points.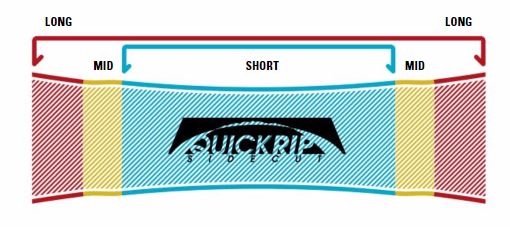 Core
Air Pop Core Matrix – Rome adds five zones of ultra low density wood for lightness. Increased lightness with air channels to reduce weight.
Laminates
TurboRods | Carbon Double Barrel – Two TurboRods in the tail add pop in two main directions - inline with the board for bigger ollies, and torsionally when the board twists for more power off edge. More kick in the tail of the board.
Z-Tech 1.0 – Centerlin Zylon, in a one inch strip, adds ollie power and lengthwise overall pop.
SuperLightBiax Laminate – Rome's ultra-lightweight biax pattern helps provide an even-flexing, fun, torsional feel; perfect for boards with the other-worldly pop found in TurboRods.
Sidewalls
Good Vibes Sidewalls – Rome takes two segments of traditional ABS material and sandwich it above and below a mid-layer of elastomeric material. This does two things. First, it smoothes out the ride, giving the board a chatter-free feeling on edge. And for strength, the mid layer of elastomeric material absorbs shock to reduce sidewall damage.
Base
SinterCarbon Base – Carbon additives help reduce friction and make the base super fast. A highly porous structure soaks up the wax.
Binding Compatibility
2 x 4 Inserts