Flex
Response Rating: 6 – Responsive yet playful. Great for freestyle and all-mountain riding.
Baseplate
FTI AIR Chassis – The FTI Air chassis is a huge step forward in lightweight binding design and dampening. By opening up the sub-frame on the heel, Nitro was able to insert a full-size airbag - not some micro gel pad or rubber bubble, but a full-size airbag that will absorb icy park landings and huge street drops, taking the impact instead of your back, knees and ankles. The FTI Air chassis also features Nitro's Mini Disc for maximum board flex.
2 x 4 Mini Disc with Angle Lock Feature – Nitro's completely redesigned, signature Mini Disc with additional features. Weight has been reduced using a fiber-reinforced composite material, allowing the binding to be mounted and micro-adjusted on any common 2 x 4 insert pattern. The smaller disc means more space to cushion your ride without sacrificing adjustability while the small mounting footprint, combined with a slightly softer material, significantly reduces the binding's impact on board flex. Mounting your bindings just got easier! - The new angle lock feature allows you to set your binding angle before mounting it to your board without losing your setting in the process.
Nitro Air Dampening – Nitro's trusted AIR suspension technology is now featured on even more models. The lightest shock absorbing technology on the planet sucks up hard landings and keeps your heels from getting bruised. This noticeable difference in ride and comfort does not give up any response or control.

Highback
Asym Flex Beam Highback – Nitro's Asymmetrical highback designs are built for the quickest response from rider to board. The Asym design better accommodates today's stances from 21 inches and up. To ensure maximum response and to align the pressure to the middle of the boot, the highback support axis is shifted 5 degree inwards. Better edge hold, comfort and lightweight.
Straps
Premium Slim Cut Ankle Straps – Nitro's Slim Cut ankle straps have a narrower profile for improved flex and freedom of movement. Incorporating Nitro's super memory foam for lasting comfort and additional leather reinforcements on the top and sides, this design can take any abuse you can dish out.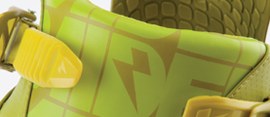 Revert Window Toe Strap – The Revert toe strap construction follows the shape of any boot's toe box. You can wear it either in front of your boot to pull the foot back and down or traditionally, over the top of the boot, like a conventional strap - easily converted, tool free, in seconds!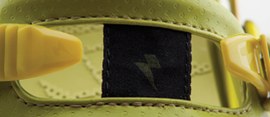 Speedwheel Aluminum Buckles – Ultra lightweight aluminum levers with an injected ratchet roller wheel for fast, effortless entry, zero slip and unmatched reliability.