Material
TD3 Th3rmoDry – The ultimate neoprene, Th3rmoDry is a 3-part combo of Xcel's most premium materials: Inner Quick Dry Lining + lightweight, ultra-stretchy, ultra-soft V Foam + outer Quick Dry Fiber. An extra-plush, diamond patterned Quick Dry Lining traps core warmth in the chest. With fast drying technology inside and out, plus the best foam available, Th3rmoDry is the warmest, lightest, and driest system yet.
Quick Dry Fiber – Fast drying, hydrophobic outer lining promotes maximum warmth.
V-Foam – The most lightweight, premium foam available; significantly lighter, stretchier, and softer than standard foams.
Airprene – Core layer of air-chambered, insulating neoprene that traps body heat for optimal heat retention; ideal for chest panels and hoods where the greatest warmth is required/generated.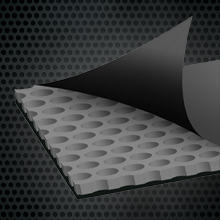 Quick Dry Lining – More lightweight inner lining with faster drying time; made from recycled polyester fibers.
Ultrastretch Neoprene – Comfortable, lightweight neoprene with softer foam and a tighter weave textile for less water absorption and better durability.
Texture Skin – Texture embossed rubber that provides excellent wind resistance - ideal for outer chest panels, hoods, and other areas that would otherwise lose warmth quickly.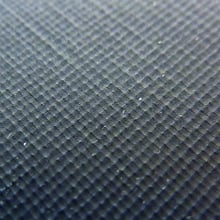 Fit
Back Knee Flex Grooves – Behind-the-knee cutouts for even more flexibility.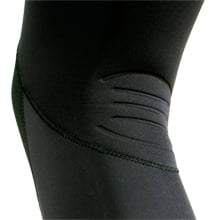 Contoured Neck – Comfortable collar design, with a slight lower contour in the front for a better feel.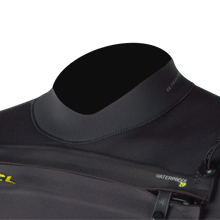 Water Temp
56˚-64˚F
13˚-18˚C
Features
Fusion Seam Technology – Inner waterproof stretch Fusion taping fuses seams together; used primarily in the upper body where maximum flexibility is required.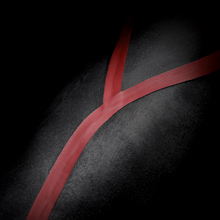 Pressure Bonded Seams – A glued & blindstitched seam using pressure to bond panels together for a highly durable yet still flexible seam; finished with inner taping for comfort; used primarily in the lower body.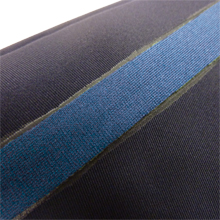 Glued and Blindstichted Seams – A fully sealed, maximum stretch seam construction that keeps water out. Neoprene panels are glued and pressed together, then blindstitched (needle doesn't fully penetrate neoprene, keeping water out). Can be finished with seam taping for added stretch, durability, and comfort.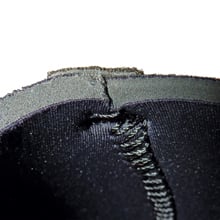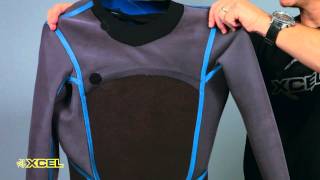 Drylock Wrist Seals – Exclusive "donut seal" construction keeps water out and forms a snug, comfortable seal.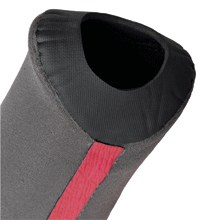 NexSkin Seals – A thin band of liquid neoprene ("NexSkin") in the inner wrists and/or ankles forms an excellent seal, and helps minimize flushing.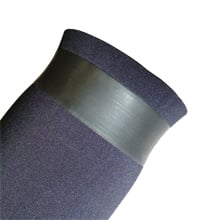 Lower Leg Key Pocket – A streamlined key pocket, blindstitched to the lower right outer calf, with an inner key loop and drain hole.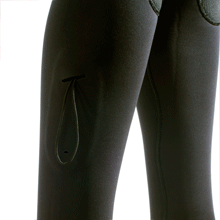 Pre-Bent Duraflex Knee Panels – Contoured, durable panels that stretch with you