Material
Chest – Ultraflex DS
Lumbar – Ultraflex DS
Arms/Legs – FluidFlex™
Ultraflex DS – Super light, warm, and durable with a technical, ribbed jersey
FluidFlex™ – O'Neill's exclusive, high-performing, comfortable, soft, durable and reliable lightweight neoprene.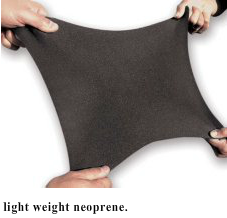 Water Temp
The O'Neill Epic II 4/3 Wetsuit is ideal for cold to cool waters ranging from 10-15°C (50-59°F).
Features
Double Superseal Neck – Features Smooth Skin lining and a comfortable, fully adjustable yet secure fit to keep water out.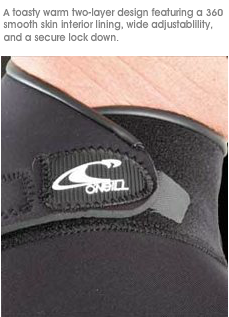 Blackout Zip – Offset zipper teeth greatly reduce water entry.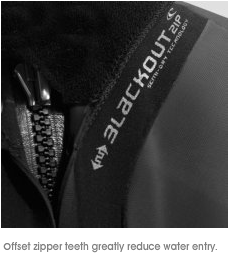 Lumbar Seamless Design – O'Neill knows that even the best surfers spend significant amounts of time sitting on their boards waiting for waves. By applying a single large panel at the lower back of the wetsuit, water entry is minimized and stretch is maximized.
Strategic Seamless Paddle Zones – Ergonomic seamless undersleeve panel that allows for unrestricted motion and prevents rash.
Krypto Knee Padz – The knee pads are abrasion resistant and made of high-stretch neoprene. The panel has an ergonomic shaping designed to extend the life of the wetsuit and protect your knees.
Key Pocket – The key pocket is easy to access and completely secure.
Firewall Insulation – O'Neills lightweight thermal insulation jersey wicks away moisture and increases warmth.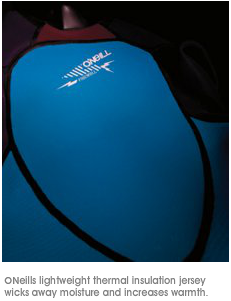 Glued and Blindstiched (GBS) Seams – Double stitched partially through the surface and triple glued to create a watertight seam - tape is added to critical areas.