Rocker Type
Abrupt Continuous Rocker – This rocker line adds a little more kick to the speed that so many riders look for. This rocker line transitions to a slightly exaggerated tip and tail rocker creating added pop without sacrificing speed into the wake.
Flex
Flex 3 – Medium flex tuning performance for both boat and cable performance.
Hull
Tip and Tail Channels
Rails/Edges
ABS Sidewall – Building a stronger board through impact protection is the goal behind ABS sidewall construction. Hyperlite ABS sidewalls will help you tackle any obstacle in the park without the fear of an edge delam.
Core
Crossover Core – Designing and developing a stronger and more durable construction method has always been Hyperlite's focus. Taking what Hyperlite learned from other constructions and combining them into one has created Crossover technology. This stringer construction allows them to combine the benefits of different materials into one. The Nova core material is utilized on the SL version and creates a snappy lightweight feel. Bio 3 core is used in the standard Crossover construction and creates a durable more traditional feel underfoot. Combined with either of these options, the E-Core reinforces the strength allowing a thinner profile. We finish everything off with an ABS sidewall for impact protection and you have a board built for the park.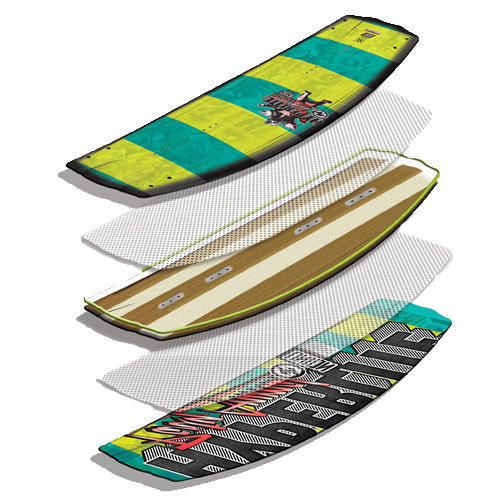 Laminates
Tri-Ax Layered Glass – This glass features a configuration of fibers running in three directions to allow for maximum durability while still allowing the board to flex.
Base
Sintered Enduro Base – Hyperlite's Sintered Enduro base material is the strongest most durable running surface they offer. The Sintered Enduro formula undergoes a process that creates a strong bond between particles making the finished product nearly indestructible. This base option is the perfect choice for the cable park season pass holder.
Additional Features
Minimum Swing Weight Profile
High Gloss UV Clear Finish
M6 Inserts