Tour Mode
Tour Mode Interface – Wide support cradle increases tour mode rigidity // Offset cradle allows snow to clear during entry // Quick release touring bracket allows for quickest and simplest transition // No removable parts ensures you won't lose any key components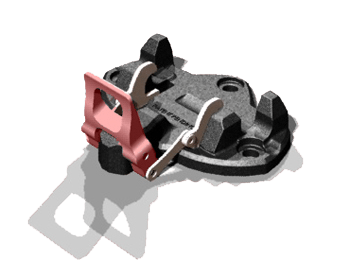 Heel Lock – On-the-fly heel lock down // Release load equivalent to DIN 6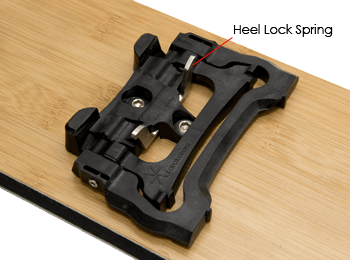 Sleeved Axles – Independent sleeves rotate freely on a fixed through axle (similar to a bike axle) for the stiffest and smoothest touring pivot.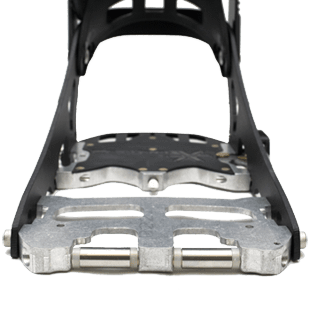 Ride-Stride Walk Mode – A -8° forward lean setting to help you stride further with every step because the highback isn't pushing against your calf
Ride Mode
Heel Lever – Quick Release lever allows for quick and easy attachment or removal of binding to the Ride Mode Interface.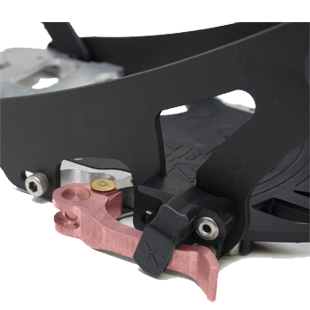 Ride-Mode Interface – Five attachment points create solid connection between binding and Ride Mode Interface // Heel stay pins push through attachment loops driving snow and ice build-up out of the way // Wide openings of attachment loops allow for easy alignment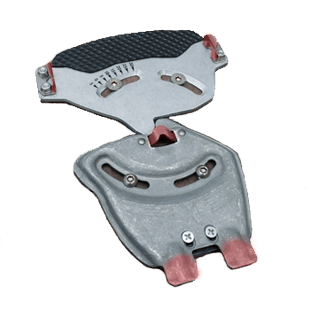 Ride-Stride Ride Mode – Allows you to preset your forward lean between 0° and 22° - in 2° increments - to give you better leverage on your heelside turn and make your ride down more powerful and enjoyable.
Baseplate
Wide Contact Points – Improve responsiveness between bindings and board - CNC machined parts have all unnecessary material removed to create the lightest splitboard binding available.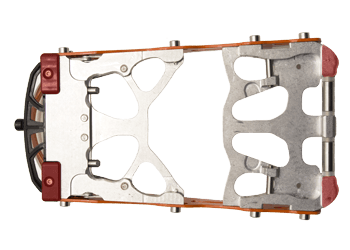 Highback
Ride-Stride Forward Lean – Saving energy in the backcountry can be the difference between going for a second lap, going for a longer tour, or going home because you're wiped out. All Karakoram splitboard bindings come standard with patent pending Ride-Stride forward lean with a Walk Mode and a Ride Mode, to help you save energy whether touring or riding. With Ride-Stride technology you don't have to fiddle with small parts while your hands are cold to adjust your forward lean, just simply rotate the forward lean adjuster 90° between Walk Mode and your preset Ride Mode- set and forget. Ride-Stride is the fastest and easiest forward lean adjustment available.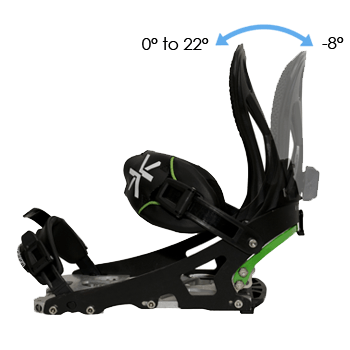 Air-Flow Highback – Air flow design for an optimized strength to weight ratio // Designed specifically for splitboarding // Power Strap Slots // Medium Flex // Dupont Zytel ST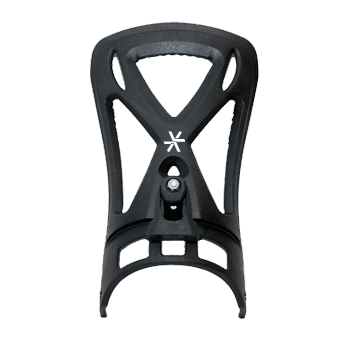 Additional Features
Open Binding Chassis – Binding can twist with torsional flex of snowboarding creating uncompromising board feel.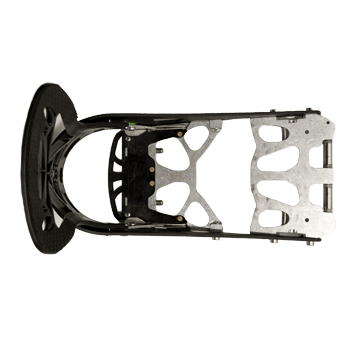 Stack Height – 14.5 mm (.57")
Change Over Time – Less than 2 minutes (includes removing skins, collapsing poles, packing gear)
Materials – Aluminum, Stainless Steel, Dupont Zytel
Mounting – Existing production splitboard bindings hole pattern or DIY mounting template
Removal of splitboard bindings not required to change from snowboard to skis
No loose parts or pins
Karakoram board clips required, NOT COMPATIBLE with Voile Chinese Hooks