Rocker Type
FreePop Rocker – A flat camber-and-rocker combo where the flat camber section extends 5 cm wider than the inserts. The extended flat section gives more versatile response and allows for edge control and smooth landings, while the rocker in the nose and tail give float in powder and smooth style on rails.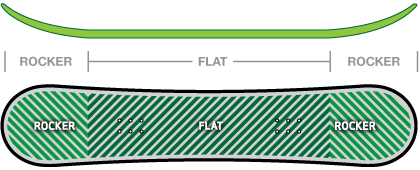 Flex
Flex Rating: 8 (1 Soft - 10 Stiff) – A powerful flex for all-mountain riding
Shape
True Twin – Everything from the center of the board out towards the nose and tail is exactly the same. Perfect for riding switch
Sidecut
QuickRip Sidecut – Advanced sidecut geometry gives a short, playful feel at slower speeds and a longer, faster and more stable feel at higher speeds. The mid-board contact points end the running length at slow speeds and add grip at high speeds.

Core
AirPop Core Matrix – Five regions of super-light low-density wood integrated with poplar throughout the core for an extra responsive feel

HotRods: Carbon Double Barrel – Two parallel carbon rods are milled into the core on both ends from the inserts to the contact points designed to give rocker boards double the snap and pop.
Laminates
SuperlightBiax Laminate – This super light biax pattern is designed to keep the torsional flex smooth to balance out the power boost from the carbon HotRods.

Kevlar Impact Plates – The highest level of strength and protection from core damage
Base
SinterCarbon Base – Carbon additives reduce friction to make the base as fast as possible. Highly porous sintered structure absorbs wax for a baseline of maximum speed.
Binding Compatibility
Rome Snowboards will accommodate 2x4 and 4x4 insert patterns.