Rocker Type
FreePop Rocker – With the flat section extending 5 cm outside the inserts, these boards have a park-to-peak amount of pop and edge control. At the same time, the rocker in the nose and tail give float in pow, smooth style on rails and stylish finesse off jumps.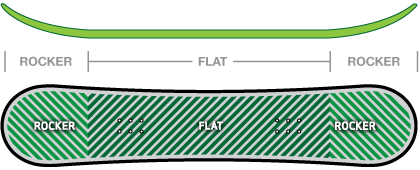 Flex
Flex Rating: 6 (1 Soft - 10 Stiff) – A stiff flex for powerful turns and lightning quick response
Sidecut
QuickRip Sidecut – Advanced sidecut geometry gives a short, playful feel at slower speeds and a longer, faster and more stable feel at higher speeds. The mid-board contact points end the running length at slow speeds and add grip at high speeds.

True Twin for easy switch riding.
Core
AirPop Core Matrix – Heavy on the non-heavy side of the spectrum (it's superlight) with five zonal regions of low density wood mixed with poplar for high energy transmission and a responsive reaction
HotRods: Carbon Double Barrel – Two milled rods of the lightest, most durable, power-transferring material channel pop to the entire nose and tail with a little extra torsional stiffness.
Laminates
Kevlar Impact Plates – The sweet spot is under the bindings. With all that abuse, the Kevlar in these plates protects your top sheet and transforms chatter, torque and compression into concentrated pop.
SuperlightBiax Laminate – Designed for one thing: to shave the fat and eliminate the weight. This laminate takes a new approach to harnessing flexibility while blending seamlessly with the pop created from HotRods.
Base
SinterCarbon Base – Say no to static friction! With the durable and porous sintered structure as a foundation, carbon nanoadditives reduce friction to eliminate unwanted drag and provide the speed riders crave.
Binding Compatibility
Rome Snowboards will accommodate 2x4 and 4x4 insert patterns.