Rocker Type
FreePop Rocker – With the flat section extending 5 cm outside the inserts, these boards have a park-to-peak amount of pop and edge control. At the same time, the rocker in the nose and tail give float in pow, smooth style on rails and stylish finesse off jumps.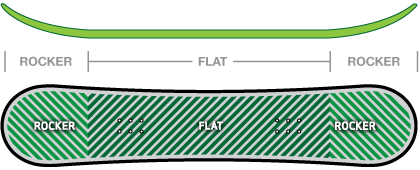 Flex
Flex Rating: 4 (1 Soft - 10 Stiff) – A medium flex to cover a large spectrum of terrain and demands from the rider
Sidecut
QuickRip Sidecut – Advanced sidecut geometry gives a short, playful feel at slower speeds and a longer, faster and more stable feel at higher speeds. The mid-board contact points end the running length at slow speeds and add grip at high speeds.

True Twin for easy switch riding.
Core
TTT Core Matrix – 100% Wood core from nose-to-tail for a classic snap with a proven continuous flex
Laminates
StraightBiax – Designed for the fun and creative rider, this laminate has a forgiving response through presses, jumps and jibs.
Bambooster Centerline Technology – This is the eco-friendly way of sending pop from under the bindings out towards the nose and tail of the board. Longitudinal response is added without increasing torsional stiffness.
Glass Reverse V Stringer – Reverse V configuration for straight ollie and nollie response without any torque
Base
XTRD – The standard of simplicity that is durable, quick, and made to stand up to the everyday beating—a 1.45 abrasion resistance holds strong and is easy to fix.
Binding Compatibility
Rome Snowboards will accommodate 2x4 and 4x4 insert patterns.