Rocker Type
NoHang-Ups Pop – 3D camber profiling in the nose and tail, with a positive camber NoHang-Ups Diamond that ends 10 mm before the end of the running length. The result is a ride that optimizes the ollie power and edge responsiveness of positive camber, and the finesse, surfy-feel and butter-ability of rocker.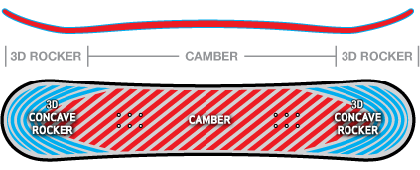 Flex
Flex Rating: 4 (1 Soft - 10 Stiff) – A medium flex to cover a large spectrum of terrain and demands from the rider
Shape
ButterOut Transition Zones – Smooth as butta'; this drawn out transition zone is a playful take on Rome's classic design, creating a play-a-round freestyle board, guaranteed to fuel your snowboard addiction.
Sidecut
QuickRip Sidecut – Advanced sidecut geometry gives a short, playful feel at slower speeds and a longer, faster and more stable feel at higher speeds. The mid-board contact points end the running length at slow speeds and add grip at high speeds.

True Twin for easy switch riding.
Core
SuperPop Core Matrix – Three zones of low-density wood with extended segments of Poplar create a snappy reply of pop.
HotRods: Glass Single Barrel – A glass rod is milled into the core under the bindings and out towards the nose and tail providing quick snappy pop for a quick response.
Laminates
StraightTriax45 Laminate – The laminate that covers all the bases, from the park to all-mountain peaks, the 30-degree off-axis fibers set the personality of the board to flex into low speed butters and pop into high speed takeoffs. It provides some extra kick in a slash and maintains your style while getting creative on and off the trails.
Basalt Impact Plates – Helps transfer power from your bindings and boots to the power while offering dampening and added strength
Base
SinterTrue Base – A durable structure with wax absorbing traits creates a fast moving base that can hold up to the abuse of park lines and keep up with your crew in the tree lines.
Edges
Impact Edges – Extra width and height makes a beefed up edge to take more abuse and hold up to all day runs and night time rail excursions.
Binding Compatibility
Rome Snowboards will accommodate 2x4 and 4x4 insert patterns.