Rocker Type
JibPop Rocker – A flat camber-and-rocker combo with the flat camber section being 2 cm narrower than the inserts so you get the rocker feeling under your feet. Having rocker underfoot and in the nose and tail give a super-loose feel for easy pressing and maximum float in the powder, while the flat section between the feet offers a solid platform for balance on rails.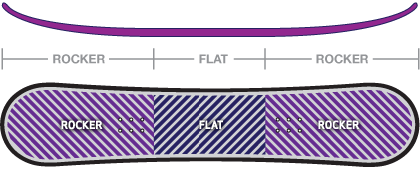 Flex
Flex Rating: 1 (1 Soft - 10 Stiff) – A soft flex for buttery maneuvering.
Shape
True Twin – Everything from the center of the board out towards the nose and tail is exactly the same. Perfect for riding switch
Sidecut
QuickRip Sidecut – Advanced sidecut geometry gives a short, playful feel at slower speeds and a longer, faster and more stable feel at higher speeds. The mid-board contact points end the running length at slow speeds and add grip at high speeds.

Core
HotRods: Glass Single Barrel – A thin glass rod is milled into the centerline of the board under the bindings and out towards the nose and tail, which provides more pop, without adding any unwanted stiffness.
Impact Core Matrix – 40% Wood fiber material in a composite, which extends the durability of the core for a smooth flex that is environmentally conscious.

Laminates
StraightBiax Basalt Laminate – Basalt fibers add pop and strength, and are environmentally friendly. The biaxial pattern gives a buttery, park-oriented feel.

Glass Impact Plates – Thin reinforcements beneath your bindings to increase strength against core compression caused by bindings
Base
Impact Base – Constructed of the strongest abrasion-resistant compound, this advanced base technology will hold up through a full season of taking a beating from rails, rocks, and trees.
Binding Compatibility
Rome Snowboards will accommodate 2x4 and 4x4 insert patterns.