Rocker Type
MtnPop Rocker – Rocker between the feet with positive camber in the nose and tail. For some riders, this is the best of both worlds—plenty of float in powder and playfulness between the feet, and plenty of power and responsiveness to pop off lips and rip turns from the positive camber in the nose and tail.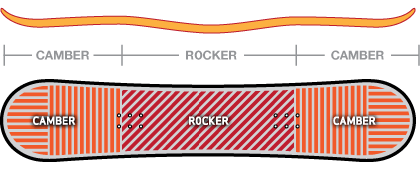 Flex
Flex Rating: 8 (1 Soft - 10 Stiff) – Stiff flex is designed for the aggressive expert
Sidecut
QuickRip Sidecut – Advanced sidecut geometry gives a short, playful feel at slower speeds and a longer, faster and more stable feel at higher speeds. The mid-board contact points end the running length at slow speeds and add grip at high speeds.

Directional Twin – Good for those who ride all-mountain, from groomers to park
Core
SuperPop Core Matrix – Three zones of low density wood with extended segments of Poplar create a light, smooth transition of flex and and a snappy reply of pop.
HotRods: Carbon Single Barrel – Super light and responsive, a single rod of carbon in the center of the nose and tails adds ollie and nollie pop without adding any torsional stiffness.
Laminates
StraightTriax30 – The laminate that covers all the bases, from the park to all-mountain peaks, the 30 degree off-axis fibers set the personality of the board to flex into low speed butters and pop into high speed takeoffs. It provides some extra kick in a slash and maintains your style while getting creative on and off the trails.

Pressure Pop Technology: Basalt V – Lightweight earth friendly material made to direct power from under your bindings to immediate contact points with the snow gives snappy turn initiations and power filled pop.
Basalt Impact Plates – Helps transfer power from your bindings and boots to the power while offering dampening and added strength
Base
SinterSpeed Base – Bomb hills and straight-line runs. By absorbing the most wax a base can handle, this ultra porous sintered technology creates a board with maximum speed output, and minimal input.
Edges
Impact Edges – These thicker edges provide a greater defense against unintentional rocks or intentional pole bonks.
Binding Compatibility
Rome Snowboards will accommodate 2x4 and 4x4 insert patterns.