Rocker Type
Precision Lifted™ – Bringing a new level of Pop to K2's Baseline offering, Lifted is just what it sounds like. Taking the flat between the feet foundation that all K2's boards are built on and simply raised it. This brings in the Pop of cambered boards while maintaining the even weighted contact points that give you the straight tracking, effortless precision of a flat board.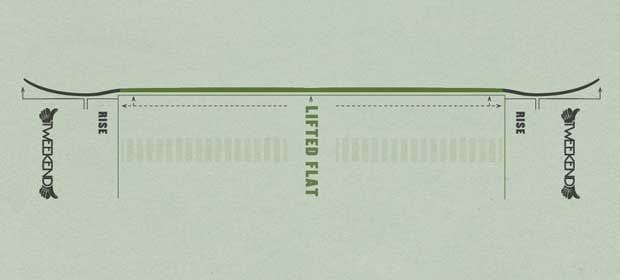 Tweekend™ – A revolutionary tweak to the ends of K2's industry leading Baseline technology. By extending the Baseline rocker all the way out to the absolute ends of the board, additional rideable surface is unlocked, giving you a bigger, more stable platform to press, float and land on.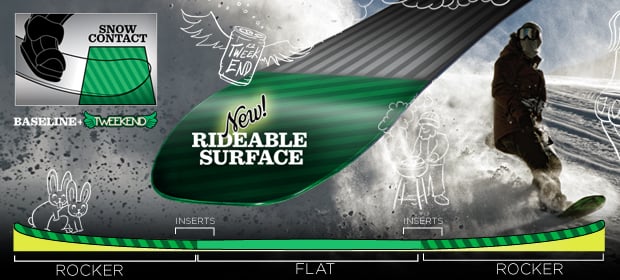 Shape
Twin Hyper Progressive – An infinite number of different radii are blended together flawlessly from mellow in the tips, to more aggressive in the center. The result is a super predictable feel that never hooks: responsive at high speeds and smooth enough to butter your way from peak to park.
Core
W2 – Three species of renewable wood are assembled to optimize strength, reduce weight, and enhance damping without the addition of other materials.
Laminates
Biaxial Glass – The classic structural laminate, biax glass provides smooth, all-purpose performance.
ICG 10 – Integrating carbon into the fiberglass reduces overall weight and creates a super smooth release of power while increasing pop and liveliness.
Sidewalls
Hybritech™ – Hybritech™ is the most efficient way to make a snowboard without sacrificing one ounce of performance. This construction features sidewall along the running surface that flows into the nose and tail to provide low swing-weight, optimized turn initiation and durability.
Base
4000 Sintered – This is the fastest base material available, with exceptional durability and wax retention.
Additional Features
Carbon Web™ II – Designed specifically to enhance Baseline technology, K2's Carbon Web brings the pop and snap of carbon closer to your bindings for maximum ollies and control in every situation.
Ollie Bar™ – The Ollie Bar is a totally new approach to adding pop to a snowboard. Molded in a pre-loaded, cambered shape it solves the problem of rocker boards not having the pop that camber boards have. Made with a secret lay up of carbon, Kevlar and glass layers, the Ollie Bar is positioned in the center of the board between the binding inserts.
Binding Compatibility
2 x 4 Insert Pattern