Rocker Type
EC2BTX – EC2BTX is a solid combination of rocker and mellow camber profiles. Underfoot you received the stability and pop of rocker that transitions into a subtle elliptical camber towards the tip and tail. You will love riding everywhere on this vibration-free, forgiving and responsive stick.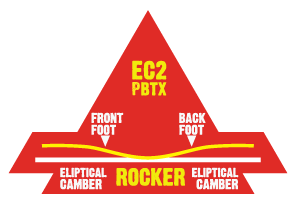 Flex
Flex Rating – 5.5 - 6 Depending on size
Shape
Twin Asymmetrical Symmetric Syncronization Freestyle Shape and Geometries – Your body is asymmetric heel to toe and your board should be too. This board is designed to work with your body's natural asymmetries…balancing your toe and heelside and playing to the strengths of each side's mechanics to enhance control and performance.
Core
Sustainable Natural Fiber – GNU builds boards with fast growing farmed eco woods selected specifically for their long fibers, light weight, strength, long lasting pop and great feel. Wood is Nature's fiberglass.
Asym APCG – Aspen, Palonia, Columbian Gold
Laminates
Odd Metal Magnesium Fiberglass – Magnesium is dubiously light, incredibly strong, tastes gnarly, is explosively flammable (remember high school science class?) and burns white hot. Experiment and expand your mind with the Magnesium fiber technology we built into every Gnu Impossible Asym. Sym. Sync. Pickle. WARNING do not store your Impossible near woodstoves, fireplaces or that smoke-show red head.
Sidewalls
Fast, rugged UHMW sidewalls
Base
Sintered Base – Compression hardened amorphous UHMW skived from the billet to create the toughest, fastest, best wax holding base material around. This base slides best and fastest when waxed regularly to match local snow conditions.
Die-Cut Base – Base color displayed may not be available. Base colors may vary.
Edges
Magne-Traction – Serrated edges give great edgehold all over the mountain, especially on hard pack and blue ice!
Topsheet
Bio Beans Topsheet – GNU has made a commitment to using a new earth friendly, bio-plastic top skin made from beans that features the highest strength-to-weight ratio of any top sheet in the industry. While there is clearly still the need to invade small, helpless, oil producing countries for money and power, this new age of bio-plastics offers hope of a more peaceful and fruity future.
Graphics
Art by Portland based design duo Jolby. Jolby is part Josh Kenyon and Colby Nichols
Additional Features
*Note: This is a factory blem board and may have slight cosmetic damage.*
Binding Compatibility
4 x 4 Insert pattern