Rocker Type
Triple Base Technology (TBT) – Triple Base Technology divides the nose and tail area into 3 parts: 1. The left sidebase for turning left. 2. The center flat middle base for going straight. 3. The right sidebase for turning right. Combining a full tip to tail classic camber with a rail to rail concave, it gives the looseness of a rocker shape board with the pop and response of camber. On edge, the camber is loaded and ready to pop you into your next turn. Meanwhile, the edge is fully engaged with a solid power distribution along a smooth edge curve.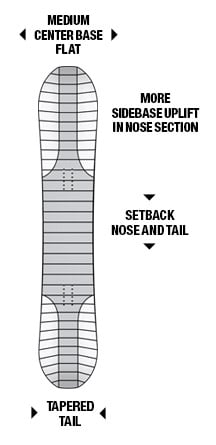 Flex
Flex Rating: 4 – A versatile medium flex. Playful, forgiving, and responsive. Great for any situation and any level rider.
Shape
Directional – Directional shape with a twin symmetrical flex. Slightly longer nose than tail, but the portions of the base in contact with the snow are the same in both directions.
Freestyle TBT – Freestyle TBT is the most 'all round' TBT shape in the range. Featuring a traditional camber profile on the center base section which possesses a medium / wide width to retain decent stability on presses and rails. There is now a longer contact length (still without TBT) between the feet to minimize twitchiness at high speed. Freestyle TBT is still symmetrical about the nose and tail for equal performance when riding switch as forward. A 'good for everything' shape with fast edge-to-edge freestyle looseness and great overall stability.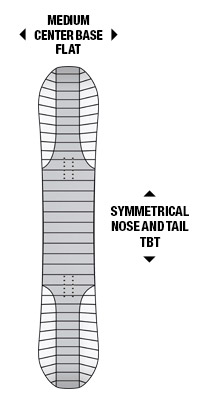 Core
Core Core – Poplar core with hardwood reinforcements along the insert rows. This increases the board's core strength and channels stored energy to deliver more pop.
Laminates
Bi-Ax Laminate – Bi-ax laminates over and under the wood core include fiberglass layers aligned in two directions at 45 degees to the edges. This creates an easy and forgiving flex, which allows you to really feel the terrain.
Base
Extruded Base – Easy to repair and takes a beating! Low maintenance and still slides well with irregular waxing, not that the guys at Bataleon are condoning anything other than a militant waxing regime (like Rihanna's).
Edges
Lightning Edge – Thinner lightning edges enable you to carve with more feeling and precision, and they weigh less.
Binding Compatibility
Stacked Pack 4 x 2 – Stacked Pack 4 x 2 - The 4 x 2 / 22 patter offers maximum precision in your binding positions with 22 inserts for a large total stance width range.