Flex
Flex Rating: 7 – On a scale from 1 to 10, these boots offer a more stiff all-mountain freestyle flex and feel.
Fit
Cored Ankle Pockets – Anatomically correct fit for ultimate heel hold.
Thermo-Formable Internal & External J Bars – Provide superior ankle and heel hold with added support
Liner
Aegis™ Antimicrobial Coating – A coating that draws moisture away from the foot to make it odorless and bacteria free.
Intuition™ Mobile Foam Liner – Multiple layers of dual-density foam create performance with freedom of movement.
Lacing System
Liner: Lock Down™ Turbo & Tallboy™ Harness – Lock Down™ Turbo is a secure, no slack lace mechanism to lock your laces in place. Ideal for all around performance, Tallboy™ extends higher above the ankle with a fourth lace loop for a supportive flex and responsive fit.
Shell: Boa® Focus Lacing System & The Closer™ lace guide – Speed lace system with reels that allow for a precise fit in two zones. The Closer™ lace guide is centered over the forefoot to drive lace power down low and even the lace tension throughout the entire boot. Accompanied by Boa lacing systems, the even tightening of The Closer™ takes speed lacing to the next level and provides an incredibly comfortable fit.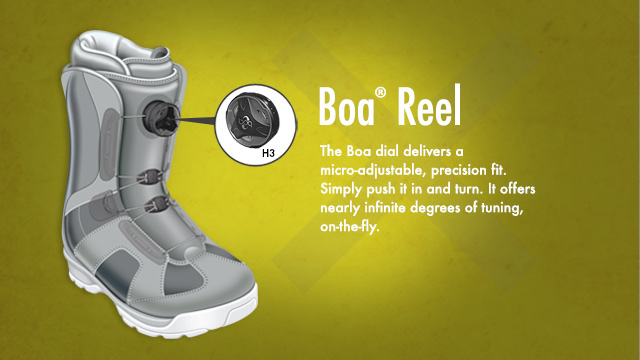 Footbed
Impacto™ – A multi-density insole with an added support structure and impact element in the heel that makes for cushy landings and all day comfort
Sole
Phy-Top™ 2.0 Sole – Stemming from the Phy-Top™ unibody construction, this improved lightweight phylon outsole features durable rubber traction pods and offers solid grip.
Additional Features
Phy-Top™ 2.0 Unibody Construction – Phy-Top™ 2.0 construction is a specially crafted 100% phylon unibody that is super light and durable, and makes for a lower profile boot with superior fit. Taking In2grated™ construction to the next level, this minimalist design uses injection molding that creates a perfect replica of the boot last for a superior long-lasting fit with better rebound and less parts to break down over time.
3D Formed tongue
Articulating cuff