Flex
Flex Rating: 5 – On a scale of 1 to 10, these boots are a 5, offering a medium amount of flex for all mountain progression.
Fit
Custom Moldable External J-Bars
Velcro Pod Closure
3D Foam Tongue
Micro Articulating Cuff – Riders have enhanced mobility and comfort while maintaining support.
Liner
Conda™ – The liner can be adjusted on-the-fly from the outside of the boot. This patented feature provides superior ankle support and exceptional heel hold. Riders can customize their fit for maximum comfort.
Intuition™ Comfort Foam 3D – High and low density thermo-forming Ultralon® foam, external "I" bars and 3D molded EVA insole with Harshmellow™ pods, come together to create an exceptionally responsive and supportive snowboard boot.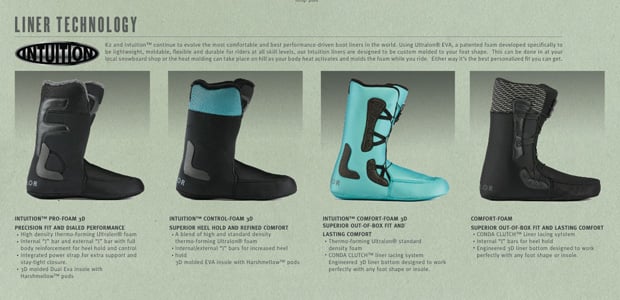 Lacing System
Boa® Coiler – Easy to tighten knob with low friction guides - coiler auto-retracts loose cable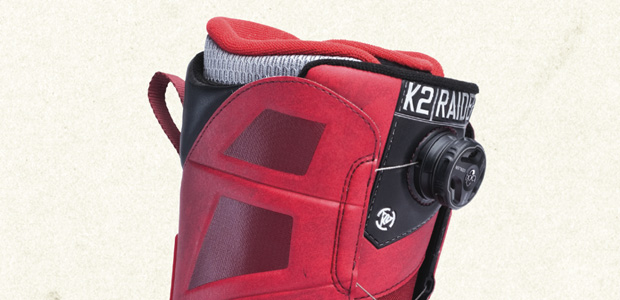 Footbed
3D Formed EVA – Soft and durable sole with Harshmellow™ pods for added comfort
Harshmellow™ – K2's specially formulated footbed that is designed to absorb impact and reduce vibrations. In exchange, you're granted with soft landings, predictable control, comfort and less fatigue.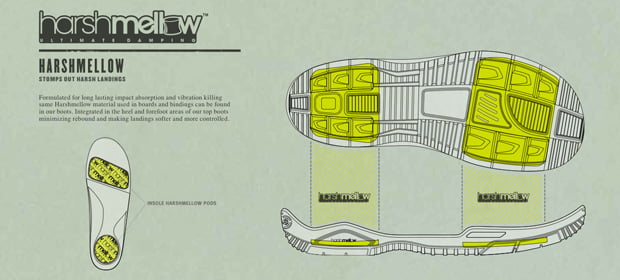 Sole
Grip-Light Outsole with Harshmellow™ – Designed by K2 to be extremely light without sacrificing durability.
Materials – Phylon / Rubber / SuperCush Harshmellow™
Additional Features
Endo Construction – Designed to maintain flexibility, fit and support from day 1 to 100.