Flex
2 Flex – On a scale from 1 to 10, these bindings offer a soft flex and feel for all mountain riders looking to progress in the park.
Baseplate
Spectrum™ Chassis System – This system is based on a new light weight injected polycarbonate chassis with stance correct heel cup, for a fresh, budget-friendly option that maintains Ride DNA.
Wedgie™ Footbed – An ultra-light footbed that uses subtle angle to align the ankles and knees to a more natural and comfortable position. The angle also gives leverage to press the board for huge pop, without affecting your preferred stance width. Ideal for riders looking for added control and pop.
Highback
Slimeback™ Lux Highback – Drawn from Ride's proprietary Slimewalls® snowboard technology, the Slimeback™ Lux features a smooth-riding material that provides fluid support in all riding conditions, all nestled into a LuxLite™ lady-specific shape and fit.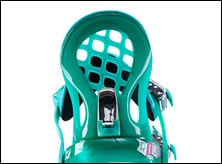 Straps
RAD™ Ankle Strap – Featuring a clean design with a high-end look, built for comfort and performance. Pre-curved 3D shaping and multi-density padding provides even pressure distribution over the instep for the best in control and comfort. All Ride ankle straps include the easy-to-use flip lever centering adjust.
ThinGrip™ Toe Strap – A convertible toe strap with a lightweight, over-molded rubber web for super snug boot grip. All Ride toe straps feature the easy-to-use flip lever centering adjust.
AstroGlyde™ OG Ratchets – The original AstroGlyde™ ratchet made from durable aluminum with a sleek low-profile look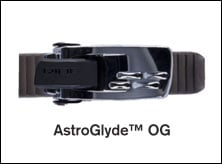 Additional Features
Compact™ Disc – This new lightweight injected disc pairs perfectly with the flex of the new Spectrum™ chassis. It mounts to 2x4, 4x4 and slot/channel boards.