Flex
4 Flex – On a scale from 1 to 10 these bindings offer a softer flex and feel for all mountain riding.
Baseplate
Aluminum Foundation™ Chassis System – A versatile, all around mid-flex performance chassis provides fully customizable fit and an adjustable heel cup. Made with 100% aircraft grade 6061 aluminum alloy to deliver unsurpassed durability, quality and performance for the up and coming rider. Wedgie™ Footbed – Aligns the ankles and knees to a natural position, providing added leverage for hard presses and huge pop
EVA Basepad – A sheer layer of vibration-absorbing material deadens high-speed chatter.
Highback
Slimeback™ SB Highback – Featuring a brand new design, with Ride's urethane Slimeback™ material, that has vibration dampening qualities for a smooth ride, consistent flex and fluid support
Straps
Freestyle Ankle Strap – This clean flip and stitch construction, made from multi-density 3D padding and formed neoprene, gives you just the right blend of comfort and control for freestyle charging.
ThinGrip™ Toe Strap – Convertible toe strap with a lightweight, overmolded rubber web for super snug boot grip.
AstroGlyde™ LT Ratchet – Innovative minimalist lever design that is engineered for superior cranking power and buttery release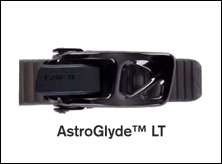 Additional Features
Adjustable Heelcup – Control the way your heelcup feels for ultimate fine tuning control.
Forged Aluminum Response Disc – Multi-compatible 2-slot design mounts on both 4-hole and 3-hole patterns and Grip-Tooth washers and provides bomber locking power.