Flex
Flex Rating: 4 (1 Soft - 10 Stiff) – This binding is great for park with a forgiving flex that is still very responsive.
Baseplate
A-Line GF – Nylon and fiberglass materials are reinforced to create an extremely lightweight and flexible binding in one durable piece. This binding also has a tool-less power ramp for easy adjustments on the go.
Canted Seamless EVA Footbed – Angled inward at 3 degrees for a natural leg stance during riding. Added support on the outside of foot provides improved control and better pop. The poly-carbonate tool-less Pop Top Disc Cover makes it easy to access the disc mount and screws while preventing snow-build up.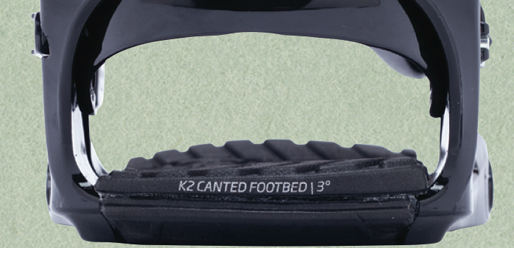 Highback
Peaceback Tweekback ™ – Women's specific construction: A smaller high-back and a peace sign cutout. This binding is made with 100% Urethane which provides lateral support and a playful flex.
Straps
Caddie Ankle Strap – The fully contoured 3D shape fits around your boot perfectly with a tapered design. This strap has tool-less cam lock centering.
Toe Strap – Tool-less adjustments with a universal fit.
Buckles
Mega RADchet™ – Aluminum levers with EZ Feed Housing make it easy to get in and out.