Baseplate
NEW Pro-Fusion PC chassis is cleanly designed and focused on lightweight durability. On-board power ramp adjust, and on-board toe strap mounting positions, with a multi-position ankle strap mount. Made with Polycarbonate for forgiving flex.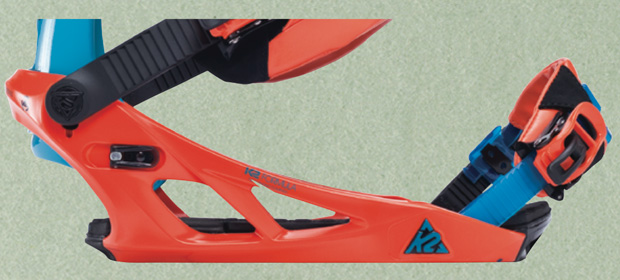 Multi-Compatible discs have a two slot design mounting on 4-hole and 3-hole patterns. Powerhold washers provide bomber locking power.
Formed EVA footbed
Highback
Airframe highbacks have a center spine for heel-side response along with forgiving side-to-side flex and a Thermo-Formed EVA Calfpad.
Straps
Caddi ankle straps with fully contoured 3D shape fits the boot perfectly. The narrower waist profile allows for a freer flex.
NEW Cam-Lock Centering is tool-less and secure adjustment allows you to precisely center your straps with ease and speed.
NEW Tool-Less Universal Toe Straps are cored for a lightweight and secure fit over or on top of your boot. Tool-less cam-lock adjustment.
Additional Features
NEW Hella RADchet 's are composite levers that are larger for easy out.