Face Fabric
100% Nylon dull finish canvas
Membrane
20k Waterproofing / 10k Breathability
Fit
Relaxed Fit
Pockets
Huge thigh pockets
Vents
Thigh Vents – Zip open these handy mid thigh vents when the temperature is rising your hot zone, then close them when you are getting ready to heat it up again.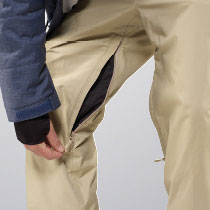 Features
Waist Cinch System – Adjust your waist band using this velcro system for the ultimate custom fit. Especially handy on cheese fry Fridays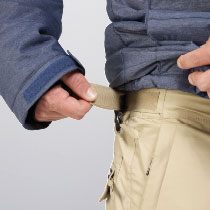 Cuff Gussets – Gussets located at the inside of each ankle open to allow you a custom fit of your leg opening to find the perfect fit where your pant meets your boot.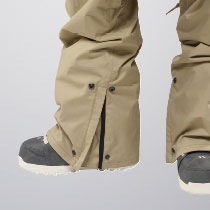 Snap Cuffs – Connect your ankle cuffs to a higher, non dragging position to prevent the dreaded "parking lot drag" or even worse, the "piss floor shuffle".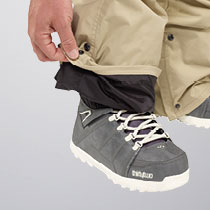 Boot Gaiters – Internal ankle cuffs prevent snow from entering and provide additional warmth and comfort. Connect your gaiters to your boots for an added level of protection.