Face Fabric
DRYRIDE Durashell™ 2-Layer – This Twill Fabric features technical weatherproofing and breathable properties in a buttery soft yet bomber package. Various insulations and lining systems can be incorporated to fine-tune the overall warmth, comfort, and breathability of the garment.
NEW Aquapel™ DWR Coating – Provides advanced breathability and protection from rain, sleet, snow, and spills in a durable treatment that maintains softness, all in an eco-friendly, fluorocarbon free package to keep the earth happy
Insulation
Mapped with Thermacore™ Insulation [80 g throughout] – Designed for superior warmth-to-weight, Thermacore™ cranks the heat without limiting mobility.
Lining Material
Taffeta Lining – Offering a crisp feel using a mix of synthetic fibers, its unique hand feel and sheen make it ideal for printing and embossing, and like all Burton linings it wicks and breathes easy.
Pockets
VELCRO® Brand closure Back Pockets
Zippered Handwarmer pockets
Cargo Pockets
Vents
Mesh-Lined Inner Thigh Vents
Features
VELCRO® Brand Fastener Jacket-to-Pant Interface
Leg Lifts™ – Keep your cuffs scuff free: no more rolling up each pant leg to steer clear of mud, pavement, or nasty restroom floors; simply snap up each cuff and you're set.
Reflective Trim
Set and Forget Ghetto Slits – Customize your style and your sag with this evolution of Burton's zippered pant cuffs. Set how much you want the bottom hem to open when riding without having it sneak open all the way.
Ticket O-Ring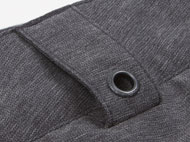 Internal Waistband Adjustment
Microfleece-Lined Waistband
Articulated Knees