Shape
Kick Tail
Construction
7-Ply Hard Rock Maple Construction – This deck comes with a non-toxic bamboo top and features 7 plies of hard rock for a durable and stiff ride. This construction method is great for carving and cruising, providing a responsive and secure feel under your feet.
Trucks
6.0" Slant Trucks – Slant trucks feature high-grade alloy construction and hardware, engineered to stand up to the most abusive skateboarding. All Slant trucks are guaranteed for life.
Wheels
Globe 83a Wheels – Designed for a smooth, carefree cruising experience. These wheels are soft and on the larger size for easier around-town or downhill skating. Hard enough that sliding through turns and drifting is a breeze, with the ability to ride over rough surfaces without any issues.
Bearings
ABEC 7 Bearings – ABEC 7 bearings are highly precise and turn faster for longer. A precise bearing means that it has a higher tolerance to heat caused by friction.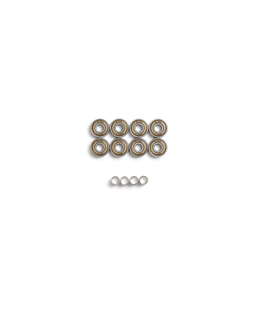 Grip Tape
Clear
Additional Features
EVA Tailpad – Provides extra padding to absorb shocks while keeping your back foot locked down. It also makes barefoot riding quite a bit more comfortable.