Frame/Shock
C/Series Carbon Frameset – By making small changes in the carbon fiber layup of their TURQ Series bikes, Yeti was able to create a more aggressively priced carbon high-performance mountain bike. C/Series frames maintain the strength and stiffness of the TURQ Series. The carbon fiber in C/Series weighs a bit more, about 250g per frame (1/2 pound). Every bike model is offered in at least one C/Series option with high-end components.
Switch Infinity Suspension – Switch Infinity utilizes a patented translating pivot that switches direction as the bike moves through its travel. This provides excellent anti-squat characteristics for superior pedaling performance and ideal suspension characteristics as it gets deeper into the travel. The Switch Infinity suspension was tuned for anti-squat and leverage ratio properties that emphasize the downhill capabilities while finding a balance for it uphill pedaling efficiency. Making this an enduro race machine that slays the down and get you to the top without ramping up the heart rate too much.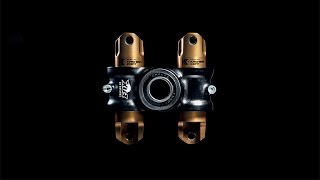 Tuned for Trail Performance – Switch Infinity has proven itself on the trail, between the tape, and in the back rooms of editor's choice rooms. Yeti took that proven technology and refined the slope of the leverage ratio making it 12.5% more progressive without effecting the anti-squat properties. This means the bike has supple small bump compliance but ramps up quicker in the mid-stroke while still allowing for full travel and bottom out control.
Trail Inspired Geometry – The SB130 has progressive trail inspired geometry. Yeti took what they learned from the SB5 and their Factory team riders and made it low, slack, and long. It is designed for shorter fork offsets - Yeti slackened the "real" head angle and made the seatube angle way steeper. The reach is also longer with shorter chainstays. What does this all mean? All these elements increase the descending prowess and move the rider forward on the bike without affecting its uphill climbing ability.
Fox Performance DPX2 – Combining the best of X2 and DPS, the DPX2 features a recirculating oil damper design with the convenience of three on-the-fly compression damping positions.
Shock Adjustments – Lever Actuated Open, Medium, Firm Modes, Rebound, Air Spring Pressure
Shock Extender – The patent pending wishbone shock extender was developed to maintain a linear path on the leverage ratio while making the curve 12.5% more progressive. This gave the Switch Infinity suspension more control in the mid-stoke while keeping the small bump supple. It also allows for more shock clearance and allows for ease of access for shock fitting and replacement.
Built to Last – The SB130 is built to tackle any type of terrain. From buffed out singletrack, to rugged EWS race courses, it can hold its own on a huck, if you are willing. It is built for a lifetime, but Yeti gave you a warranty to match just for good measure.
Integrated Headset – The SB130 employs an integrated headset which allows for a lower overall stack height and cleaner carbon layup. The cleaner carbon layup means there are no aluminum inserts and less material in the headset juncture. This all leads to a lighter, stronger front triangle.
Custom Frame Protectors – The frame protectors for the down tube and chainstay are custom molded to match the frame. This guarantees a proper fit and adhesion to the frame for years of protection without the need for replacement or additional adhesives.
Internal Cable Routing – This may seem like a small thing, but having a clean aesthetic on the frame along with internally molded carbon tubes inside for hassle-free cable routing is key. It makes for a quiet ride and ease of maintenance. For Yeti, building a great frame is all about the details.
Fork
Fox Performance 36 – Fox's Performance forks retain the same black anodized 7000 series aluminum upper tubes as Performance Elite, but have a different damper (FIT GRIP) with fewer adjustments.
Fork Adjustments – FIT GRIP Damper 3-Position Lever (Open, Medium, Firm) | Air Spring Pressure, Rebound Adjust
Drive Train
SRAM GX Eagle™ – SRAM Eagle™ drivetrains are the only 1x drivetrains that are fully system engineered for optimal performance. Eagle™ drivetrains are designed, tested and proven to deliver the lightest, highest-performing, most durable systems for all riders on any trail. Eagle™ technology provides an expanded, optimum, gear range that allows you to realize your bike's potential beyond where it has ever been. Every SRAM GX Eagle™ component is 100% compatible with all levels of SRAM Eagle™ drivetrain systems.
Wheel Set
DT Swiss M1900 30mm Wheelset – New look, new components, new sizes: the M 1900 SPLINE means business. It's been developed for the new all-mountain bikes. DT Swiss has packed all their expertise into the high-end machined hubs of the M 1900 SPLINE. Forces to and from the hubs are transmitted via their proven straight pull spokes. The strong, lightweight rims meet all the demands of a tubeless setup and modern MTB tires - they'll have you flying up and down the mountains.
Maxxis Minion DHF Front Tire – With a tread design that deftly balances rolling speed with braking and cornering traction, it's hard to find fault with the Minion DHF. That's probably why it's one of the most imitated tires in mountain biking. Whether riding local trails, a backcountry epic, racing enduro or World Cup downhill, there's a Minion DHF spec to meet your needs.
Maxxis Aggressor Rear Tire – The Aggressor is designed for high-speed modern mountain bike trails. Advanced knob shaping creates extra gripping edges, and reinforced side knobs offer enhanced stability when cornering at speed. An all-around trail tire excelling on everything from loose cross country race courses to heavy all-mountain riding.