Frame/Shock
ALUXX SL Aluminum Frame – An extremely lightweight frameset featuring high-performance strength-to-weight ratios.
140 mm Maestro® Suspension – Whatever off-road adventures you seek, Giant's Maestro Suspension helps you make the most of your efforts. Control, traction, comfort, speed -- you get more of everything with Maestro. From fast and efficient XC bikes to long-travel downhill setups, Maestro is an adaptable full-suspension platform that offers smooth, active rear suspension for any type of trail and all kinds of terrain.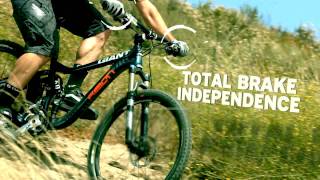 OverDrive Steerer-Tube Technology – Giant's original oversized fork steerer-tube technology. OverDrive provides up to 15% more torsional steering stiffness than straight steerer-tube designs. This translates into much more accurate steering input from a rider's hands, through the handlebar and stem, and down to the front wheel. Whether hammering uphill or carving through a corner, OverDrive transmits input directly to the front wheel for more precise handling.
Fox Float Performance DPS Shock – The Float DPS design offers excellent bump absorption and firm lockout while the DPS damper offers three preset positions to match any terrain.
Adjustments – Lever Actuated Open, Medium, Firm Modes, Open Mode Adjust Tuning Range (1, 2, 3) , Rebound Adjust, Air Spring Pressure Adjust
Internal Cable Routing – For derailleur, rear brake, and dropper post lines.
Fork
Fox 34 Float Performance – Designed for the aggressive trail rider, the 34 Float Performance fork features a GRIP 3-position damper, FLOAT air spring, and a super lightweight chassis.
Fork Adjustments – GRIP 3-Position Lever (Open, Medium, Firm), External Rebound, Air Spring Pressure
Drive Train
Hybrid Cycling Technology – Hybrid Cycling Technology is a system that combines electric power with human power to produce the most efficient, powerful and natural E-bike riding experience. It's a seamless extension of a rider's own power that sets Giant E-bikes apart from other "electric" bicycles. The system consists of four key innovative technologies that work in unison with your own body's power output: 1) SyncDrive, 2) RideControl, 3) EnergyPak, and 4) PedalPlus.
Giant SyncDrive Sport – Powered by Yamaha, the SyncDrive motor delivers speeds up to 20 mph with up to 80Nm of torque gives instant power and high power at low speeds. You'll enjoy every second of the ride while this high-performance SyncDrive motor delivers a quiet and comfortable riding experience.
Giant PedalPlus 4-Sensor Technology – The torque sensor measures the amount of power the rider is applying to the pedals. The motor then replicates the natural riding style, adding assistance when needed.
Giant EnergyPak 500 – Giant's new battery technology has 25% higher energy density, which means 25% greater range than most batteries of the same size and weight.
Giant RideControl EVO – The ergonomically designed control buttons let the rider control the support level and display with comfort and ease.
Brakes
Shimano Deore M615 Hydraulic Disc Brakeset – Original Shimano parts guarantees that all components work perfectly for optimum performance and maximum safety and longevity.
Wheel Set
Schwalbe Rocket Ron Tires – These lightweight 'rockets' fulfill many requirements all at the same time: incredible grip with extremely low weight and rolling resistance, with all technical refinements already on board.
Additional Features
Giant EnergyPak 3A Fast Charger
USB Charging – Added flexibility and convenience for charging up the battery system.
Walk Assist – The walk assist mode makes it easier to wheel the bike along with you while walking.
Giant Contact SL Switch Dropper Seatpost – Trail conditions change in the blink of an eye -- transition from steep climbs to gnarly descents and never skip a beat with the all-new Contact SL Switch seatpost.
Shipping Information
Oversize items can only be shipped via UPS Ground within the continental U.S.