Frame/Shock
Aluminum Optimum G04 – Devinci's mountain bike program is a product of its unparalleled R&D experience. Top-of-the-line tube technology is adapted to Devinci's high-end mountain bikes, all offering the ultimate in acceleration, power transfer, control and stability. Lightweight G04 tubing is born of a tech blend of 6066-T6 aluminum combined with state of the art triple butting, high pressure hydro-forming and tapered CNC-machined headtubes. Frames built from Optimum G04 tubesets offer superior durability, incredible stiffness, and a knockout strength-to-weight ratio exclusive to Devinci bikes. Devinci's high welding and heat treatment quality standards, along with the knowledge gained from partnerships with the world-class industry research centres and aluminum producers, results in incredibly durable bikes. In fact, with more than 20 years on the aluminum frontlines, Devinci backs these frames with a full lifetime warranty.
Split-Pivot Suspension – Devinci Cycles was the first bike manufacturer to adopt Dave Weagle's patented Split Pivot technology. Today it represents the core of Devinci's full-suspension line-up. The genius of the Split Pivot suspension system is that it works in conjunction with you—the rider—for intuitive performance and a fully customizable feel. It harmonizes and maximizes bump compliance, traction, and efficiency—factors that are normally at odds with each other. The result is a buttery smooth ride with hyperactive small bump compliance and podium-crushing pedal stroke efficiency. The system is called Split Pivot because of its concentric rear dropout pivot built in line with the rear wheel axle, but there's more to it than that.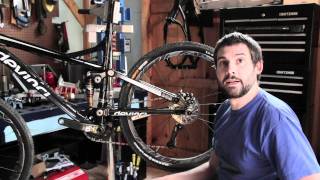 RockShox Monarch RT Debonair – Featuring silky smooth travel in a new lightweight design, Monarch floats through bumps even better than before, turning rugged trails into tire-gripping velvet. The chassis is lean while maintaining the durability and adjustability needed to bite off huge chunks of burly trail action and epic cross country.
Shock Adjustments – External Rebound Adjust | 2 Position Compression Adjust (Open / Pedal)
Ultra-Short Chainstay – Pin-it acceleration, combined with superior driver's seat handling.
Low Stand-Over Height – Delivering prime stand-over fit, and a super-low center of gravity for enhanced handling.
Asymmetrical Construction – Milking the most performance out of every frame angle, improved torsional stiffness.
Axis & FRG Adjustable – Perfect balance, minimum unsprung mass, and prime hi/lo geometry adjustment for perfect settings.
Boost 148 Standard – Stiffer rear wheel.
Tapered Head Tube – Precise control and the best strength-to-weight ratio in the business.
Maximum Tire Clearance – Minion DHF 27.5" x 2.5"
Fork
RockShox Sektor RL 27.5 Solo Air Boost – While there may not be any podiums out on the trail, there's no denying the ultra-light weight, stiffness and damping technologies of the RockShox World Cup level forks will give you the competitive edge against the locals at your trail. But that edge comes at a premium price, which is why savvy trail riders run the Sektor. It rewards you with the proven Motion Control™ damper performance and chassis structure as RockShox's exotic race products, only without the exotic materials -- and price. A slight weight penalty is a small price to pay when it means you will have money left over for a few pints after your ride.
Fork Adjustments – External Rebound Adjust | Low Speed Compression to 'Lock'
Drive Train
Shimano Deore M610 Shifter – Ergonomic lever shape, orbit and easy access to levers with new brake lever.
Shimano Deore M615 Shadow+ Rear Derailleur
SRAM X5 Front Derailleur – The X5 front derailleur was designed specifically for SRAM X-GLIDE™ shifting. Flawless shifting means you'll never again compromise your speed and power in unpredictable off-road terrain. No more missed shifts, ever. X-GLIDE™ puts you in he right gear, right now.
FSA Comet Crankset 36 / 22T – Our entry-level BB30 MTB crankset, the Comet 386 Compact uses solid forged 7050-T6 aluminum arms. The 386 three-armed spider has very broad limbs which, combined with the deep section of the crankarms themselves, makes for great power transfer. Compatible with all 10-speed systems, the 386 Compact is also available for standard threaded bottom bracket shells. There's a choice of two chainring combinations – 42/27 or 39/27 – with both options including a hard-wearing 7075 aluminium outer chainring and very durable heat-treated chromoly inner.
Brakes
Shimano M396 Brakes – 180 mm Rotors (Front & Rear)
Wheel Set
Maxxis Ardent (Rear Tire) – An aggressive tread in high-volume casing, designed with great traction in mind. The Ardent doesn't forget the racer with large block-style side knobs offering numerous edges for high-speed cornering. The center tread, while ideal for braking and accelerating traction, also features ramped knobs to minimize rolling resistance. With a wide variety of size offerings, the Ardent captures every mountain rider's needs.
Additional Features
LO Geometry Settings Shown, See Size Chart for HI Geo Option
Shipping Information
Oversize items can only be shipped via UPS Ground within the continental U.S.