Frame/Shock
Aluminum Optimum G04 (140mm) – Devinci's mountain bike program is a product of its unparalleled R&D experience. Top-of-the-line tube technology is adapted to Devinci's high-end mountain bikes, all offering the ultimate in acceleration, power transfer, control, and stability. Lightweight G04 tubing is born of a tech blend of 6066-T6 aluminum combined with state-of-the-art triple butting, high pressure hydro-forming and tapered CNC-machined headtubes. Frames built form Optimum G04 tubesets offer superior durability, incredible stiffness, and a knockout strength-to-weight ratio exclusive to Devinci bikes. Devinci's high welding and heat treatment quality standards along with the knowledge gained from partnerships with the world-class industry research centers and aluminum producers results in incredibly durable bikes. In fact, with more than 20 years on the aluminum frontlines, Devinci backs these frames with a full lifetime warranty.
Split-Pivot Suspension – Devinci Cycles was the first bike manufacturer to adopt Dave Weagle's patented Split Pivot technology. Today it represents the core of Devinci's full-suspension lineup. The genius of the Split Pivot suspension system is that it works in conjunction with you—the rider—for intuitive performance and a fully customizable feel. It harmonizes and maximizes bump compliance, traction, and efficiency—factors that are normally at odds with each other. The result is a buttery smooth ride with hyperactive small bump compliance and podium-crushing pedal stroke efficiency. The system is called Split Pivot because of its concentric rear dropout pivot built in line with the rear wheel axle, but there's more to it than that.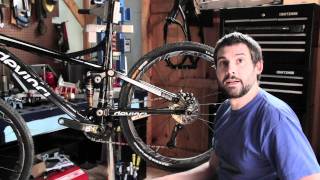 RockShox Deluxe RL Debonair Shock – How do you improve on the success of a rear shock that has received critical acclaim for its stellar performance and supple feel? It's simple. You rewrite the rules, throw existing design constraints out the window and focus solely on the best possible performance solution. We took the proven damping performance of our popular Monarch series and introduced it to our new metric-sized chassis. The result is truly Deluxe, ready to redefine your ride.
Shock Adjustments – External Rebound, 2 Position Compression (Open/Pedal)
Super Boost 157 Rear Spacing – Optimizes the chainstay span, as well as tire and front chain ring clearance while using a stiffer rear wheel.
FRG Adjustable – FRG adjustable technology allows you to customize your ride to personal preference or a specific trail type using a flip-flop pivot mechanism that changes the bikes geometry to a high or low setting.
Low Stand-Over Height – Delivering prime stand-over fit and a super-low center of gravity for enhanced handling.
Threaded Bottom Bracket – Easy maintenance and access for internal cables.
Maximum Tire Clearance – 2.8"
Full Internal Cable Routing
Molded Chainstay and Downtube Protector
Hidden Pivots Between Seatstay and Linkage
Asymmetrical Construction for Complete Torsional Stiffness
Fork
RockShox Pike RC – Pike RC features the all-new Charger 2 damper in a mean and lean package, with Pike's trademark stiffness and ride quality. The DebonAir air spring ensures excellent small bump sensitivity and mid-stroke support, and OneLoc remote compatibility pairs excellently with new RockShox rear shocks.
Fork Adjustments – External Rebound, Low Speed Compression from Open to Firm
Drive Train
SRAM GX Eagle 32T Super Boost 157 Crankset – With revolutionary advancements in bicycle componentry, like SRAM's XX1, X01 and X1 drivetrains, mountain bike designers have been given almost limitless freedom to focus solely on the performance of the bike. Each advancement demands that the entire package works flawlessly. Aggressive trail and enduro riders have been increasingly enjoying the benefits of larger wheels, but many still view 27.5" and 29" wheels as a possible weak link -- which is why SRAM has developed an open standard with Boost™ compatible components for SRAM drivetrain, hubs and RockShox forks.
SRAM GX Eagle™ 1x12 Drivetrain – SRAM Eagle™ drivetrains are the only 1x drivetrains that are fully system engineered for optimal performance. Eagle™ drivetrains are designed, tested and proven to deliver the lightest, highest-performing, most durable systems for all riders on any trail. Every SRAM GX Eagle™ component is 100% compatible with all levels of SRAM Eagle™ drivetrain systems.
Brakes
SRAM Centerline Rotors – The new CenterLine Rotor was designed to keep the center of friction consistent throughout rotation thereby minimizing vibration offering consistent performance and a quiet ride.
SRAM Guide R Brakeset – What's it going to take to ride that line? It's steep. It's rocky. You've passed it a hundred times. But not this time. With the all-new SRAM Guide R, you have the power. Proven 4-piston calipers give you smooth, one-finger control. Features like Reach Adjust let you dial it in just right. And Guide perfectly complements other SRAM components and gives you flawless performance on every ride. Now featuring the World Championship-winning S4 caliper with Bleeding Edge™ and Heat Shield technologies.
Wheel Set
Maxxis Minion DHF (Front Tire) – The Minion DHF was designed for the often loose and muddy conditions of aggressive all-mountain terrain. The DHF incorporates ramped knobs for low rolling resistance and channel-cut knobs to increase gripping edges, giving straight-line control and precise cornering.
Maxxis Minion DHR II (Rear Tire) – The Minion DHR II is a complete redesign. Acceleration, cornering and braking have all been improved. The shoulder knobs were borrowed from the legendary Minion DHF and then beefed up to handle duty as a rear tire. The center tread has been heavily ramped and siped to roll fast and track straight under braking. Pair the DHR II with the Minion DHF for the ultimate aggressive riding combo.