Frame/Shock
Carbon DMC-G 120mm Frame (Devinci Monocoque Carbon Gravity) – Lighter, stiffer, more responsive construction for a completely synched ride built for ultimate all-terrain performance.
Split Pivot Suspension – Devinci Cycles was the first bike manufacturer to adopt Dave Weagle's patented Split Pivot technology. Today it represents the core of Devinci's full-suspension lineup. The genius of the Split Pivot suspension system is that it works in conjunction with you—the rider—for intuitive performance and a fully customizable feel. It harmonizes and maximizes bump compliance, traction, and efficiency—factors that are normally at odds with each other. The result is a buttery smooth ride with hyperactive small bump compliance and podium-crushing pedal stroke efficiency. The system is called Split Pivot because of its concentric rear dropout pivot built in line with the rear wheel axle, but there's more to it than that.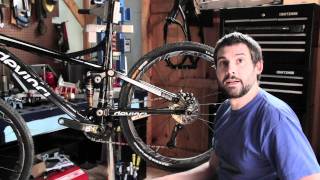 Fox Float Factory DPS Factory Rear Shock – For a lightweight, inline shock, the DPS packs a lot of performance. The Dual Piston Base Valve has dedicated compression and rebound pistons, providing a firm lockout without compromising bump compliance, ride control, or efficiency. "Factory" says it all. The best-of-the-best technology Fox has to offer is available in Factory Series models with the buttery smooth, and ultra durable Genuine Kashima Coat. These products are World Cup proven.
Shock Adjustments – Lever Actuated Open, Medium, Firm Modes, Open Mode Adjust Tuning Range (1, 2, 3), Rebound, Air Spring Pressure
Updated Geometry – With a 10mm longer reach and 1.5° slacker head angles, this redesign lets you confidently tackle tech sections while steeper seat tube angles help you motor up the climbs.
Adapted Chainstay Length – L/XL sizes have adaptable chainstay lengths for a fully balanced feel on the trail, while rider size-appropriate front triangles enhance overall stability and handling.
Relocated Geo Adjust Flip Chip – Switch between Hi/Lo mode to customize ride characteristics. The flip chip is conveniently located at the base of the shock mount with less moving parts, meaning it's easier to use, especially if you want to conduct some on-trail experiments.
Double Row Linkage Bearings – Double-row, double-lip sealed linkage bearings deliver precision movements and superior longevity.
Fits Tires up to 2.6" Wide
Molded Chainstay and Downtube Protector
Fork
Fox Float 34 Factory – Kashima coated goodness with Fox's wonderful FIT4 damper inside: this fork is buttery, lightweight, and very tuneable. The Factory fork for factory riders, this makes a good bike great and a great bike incredible.
Fork Adjustments – FIT4 3-Position Lever (Open, Medium, Firm) with 22 Clicks of Low-Speed Compression Adjust in Open Mode, External Rebound, Air Spring
Brakes
SRAM G2 RSC Brakeset – G2 RSC is the half-ton pickup truck of the mountain bike brake world — dependable, go anywhere, do anything, plenty of power when you need it, and all of the features you need. The new G2 RSC is based on the SRAM Code design, so it puts Code-like power and modulation into a mini-Code package. And of course the signature Guide lever-feel and contact-point adjustability ensures that this brake works great for every rider. The G2 RSC presents rider-controlled offering with an alloy blade, lever pivot bushings, stainless steel hardware.
SRAM Centerline Rotors – The CenterLine design provides a smooth, consistent, and quiet running braking surface.
Wheel Set
Race Face ARC 35 Rims Laced to Race Face Vault Hubs – From their 35mm rim width to the beefy and balanced SuperBoost rear hubs, these wheels are as light and strong as aluminum can get. With instant engagement (every 3°), durable 6902 bearings, and an oversized hub body, these are ready for aggressive tires and hard-charging riders.
Maxxis Minion DHF Front Tire – The Minion DHF was designed for the often loose and muddy conditions of aggressive all-mountain terrain. The DHF incorporates ramped knobs for low rolling resistance and channel-cut knobs to increase gripping edges, giving straight-line control and precise cornering.
Maxxis Minion DHR II Rear Tire – With side knobs borrowed from the legendary Minion DHF, but widened to provide more support, the DHR II corners like no other. The center tread features ramped leading edges to improve acceleration and sipes to create a smooth transition when leaning the bike. Paddle-like knobs on the center tread dig in under hard braking and help keep the bike under control. Pair it with a Minion DHF up front for the ultimate aggressive trail riding tire combo!