Frame/Shock
Aluminum Optimum G04 Frame (120mm) – Devinci's mountain bike program is a product of its unparalleled R&D experience. Top-of-the-line tube technology is adapted to Devinci's high-end mountain bikes, all offering the ultimate in acceleration, power transfer, control and stability. Lightweight G04 tubing is born of a tech blend of 6066-T6 aluminum combined with state of the art triple butting, high pressure hydro-forming and tapered CNC-machined headtubes. Frames built from Optimum G04 tubesets offer superior durability, incredible stiffness, and a knockout strength-to-weight ratio exclusive to Devinci bikes. Devinci's high welding and heat treatment quality standards, along with the knowledge gained from partnerships with the world-class industry research centres and aluminum producers, results in incredibly durable bikes. In fact, with more than 20 years on the aluminum frontlines, Devinci backs these frames with a full lifetime warranty.
Split-Pivot Suspension – Devinci Cycles was the first bike manufacturer to adopt Dave Weagle's patented Split Pivot technology. Today it represents the core of Devinci's full-suspension line-up. The genius of the Split Pivot suspension system is that it works in conjunction with you—the rider—for intuitive performance and a fully customizable feel. It harmonizes and maximizes bump compliance, traction, and efficiency—factors that are normally at odds with each other. The result is a buttery smooth ride with hyperactive small bump compliance and podium-crushing pedal stroke efficiency. The system is called Split Pivot because of its concentric rear dropout pivot built in line with the rear wheel axle, but there's more to it than that.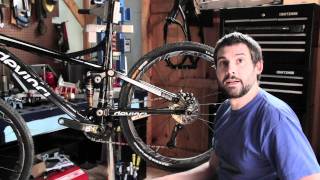 Fox Float Factory Series Shock – Fox's highest performing inline shock with a design that offers excellent bump absorption and firm lockout. Factory Series models feature a Genuine Kashima Coating.
Shock Adjustments – 3-Position Lever (Open, Medium, Firm) with Open Mode Adjust | Rebound Adjust | Air Spring Pressure Adjust
Axis & FRG Adjustable – Perfect balance, minimum unsprung mass, and prime hi/lo geometry adjustment for perfect settings.
Tapered Head Tube – Precise control and the best strength-to-weight ratio in the business.
Low Stand-Over Height – Delivering prime stand-over fit and a super-low center of gravity for enhanced handling.
Boost 148 Standard – Stiffer rear wheel.
Reference Maximum Tire Clearance – Minion DHF 29" x 2.4"
Internal Cable Routing – Provides protection from the elements and deluxe, aerodynamic styling.
Asymmetrical Construction – Milking the most performance out of every frame angle, improved torsional stiffness.
Ultra-Short Chainstay – Pin-it acceleration, combined with superior driver's seat handling.
Drive Train
Shimano SLX 11-Speed 11-42T Cassette – The new CS-M7000-11 HYPERGLIDE cassette utilizes lighter aluminium spider construction, aluminium and steel cogs.
Shimano SLX M7000 Shifter – Lower profile and feature improved ergonomics and longer levers that decrease shift effort.
Shimano XT M8000 Rear Derailleur – Rider tuned for sharp and silky shifts.
Race Face Turbine DM 30 10/11S PF Crankset – Designed specifically for cross country racing & trail riding, Turbine sets the benchmark for performance aluminum cranks and continues the Turbine legacy. Featuring Race Face signature I-Beam arm profiling and smooth shifting Turbine rings. The Turbine is an incredibly light & stiff performance crank-set.
Wheelset
Maxxis High Roller II | Front Tire – The open and aggressive tread design gives the High Roller II excellent soil penetration and mud clearing ability. A square profile provides a solid, consistent feel across the knobs. Modified knobs on the shoulder and center improve braking performance and traction on hard surfaces. When gravity pulls you downhill, rely on the High Roller II to keep you upright.
Maxxis Ardent TR | Rear Tire – An aggressive tread in high-volume casing, designed with great traction in mind. The Ardent doesn't forget the racer with large block-style side knobs offering numerous edges for high-speed cornering. The center tread, while ideal for braking and accelerating traction, also features ramped knobs to minimize rolling resistance. With a wide variety of size offerings, the Ardent captures every mountain rider's needs.