La Familia Partner - Sport Conrad - Germany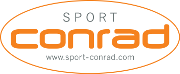 Sport Conrad is a family owned online shop with four brick and mortar stores located right at the bottom of the rising Bavarian Alps. The doors of the first shop opened in 1897 where we offered handmade shoes to the local miners. From the little shoemaker's workshop we grew into a successful family business led by the fourth generation today.
For any outdoor enthusiast Sport Conrad means exceptional service, well trained staff with extensive know-how and of course an online shop with large variety of outdoor sports equipment. If you are a climber, camper, backpacker, trailrunner, mountain biker, alpine or nordic skier, ski tourer, freerider or mountaineer – we are here for you, prepared to get you ready and equipped to follow your passion with the hottest new products of the best quality.
Sport Conrad has 4 locations, in Penzburg, Garmisch- Partenkirchen, Murnau and Wielenbach:
Sport Conrad Penzberg
Bahnhofstraße 20
82377 Penzberg
GERMANY
+49 8856 8110
Sport Conrad Garmisch-Partenkirchen
Chamonixstr. 3 - 9
82467 Garmisch-Partenkirchen
GERMANY
+49 8821 732270
Sport Conrad Murnau
Obermarkt 18
82418 Murnau
GERMANY
+49 8841 9611
Sport Conrad Wielenbach
Blumenstraße 35
82407 Wielenbach
GERMANY
+49 881 934115