La Familia Partner - Berg's Ski and Snowboard Shop - Eugene, OR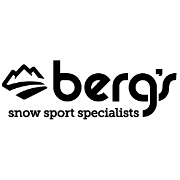 Berg's Ski and Snowboard Shop
is a family owned shop in Eugene, OR consisting of local community minded snow sports enthusiasts. Founded in 1955, the Berg's staff makes available decades of ski, snowboard, backcountry, and mountaineering experience. Their dedicated staff of ski-bums, backcountry addicts, and snowboarders are passionate about helping every customer find just the right gear. The strong Norwegian hospitality, service and work ethic instilled by founders, Paul and Dale Berg, still permeates today.
Free In-Store Pickup:
If you're looking for a secure place to ship your purchase on evo.com, or need additional service, local knowledge, or just a place to go talk about your favorite activities, then we're proud to partner with Berg's, and know that they'll take care of you when you visit.
If choosing will call to Berg's you will receive an email when your order is ready for pick up. Orders will be held for 30 days unless additional time is requested. When picking up orders, please bring your order number, and a photo ID.
Primary Categories Serviced:
Ski, Snowboard, Outerwear and Accessories