Construction
In-Mold helmet with EPS liner
Aramid Bridge Reinforcements – By molding aramid bridges to the core of the helmet, the impact forces are spread over a larger surface, and at the same time the helmet gains structural stability through the bonding of the unbreakable aramid weave and the EPS liner. It allows for a very lightweight and very well ventilated helmet.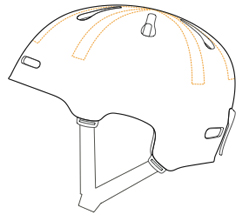 Ventilation
Adjustable Ventilation – By studying the air flow inside the helmets, POC has been able to create super ventilated helmets with adjustable air flow to adapt it to the conditions. The combination of goggle vents, chimney vents, VDSAP and adjustable vents makes the helmets very ventilated, with a maintained low weight and a high level protection.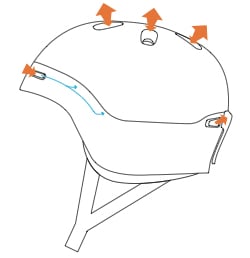 Goggle Vents – Evacuate steam from your goggles.
Adjustability
Size Adjustment System – For a comfortable and safe fit.
Additional Features
Fluorescent Colors With Reflective Stickers – Maximize visibility to avoid collisions with other skiers
Soft Ear Pads – For lower weight and better hearing
Fixed goggle clip
Safety Standards
CE EN 1077-B
ASTM 2040