Rocker Type
Subtle 3-Stage Rocker – This is the stepping-stone to the 3-stage rocker style of ride. Utilizing a smaller flat spot between your feet, a Subtle 3-Stage rocker creates just enough vertical pop to know its there.
Shape
Exaggerated Landing Zone
Hull
Dual Tunnel Channel System
Rails/Edges
Variable Edge Design
Core
Biolite 3 Core – The secret recipe Hyperlite's been perfecting since day one. This core material is the gold standard in the industry and used throughout the line. Bio 3 is their lightest and most durable formula to date.
Traditional Construction – The construction method that started it all! Hyperlite begins with their formula of Bio 3 foam and then wrap it with our exclusive layered glass making sure every edge utilizes our Monocoque lay-up. This traditional construction yields a part that is strong enough for our best athletes, but also perfect for a first time rider.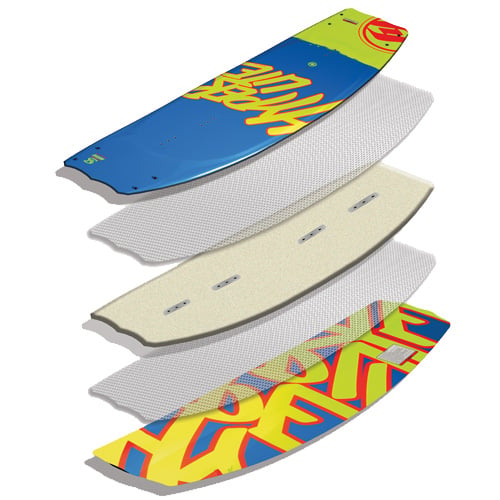 Laminates
Monocoque Construction – Integrating the top glass and the bottom glass into one. Generating a more durable board on side impacts thus preventing delamination.
Layered Glass – Hyperlite's fiberglass is available in 3 weights depending on the board. Over time, traditional woven glass fibers will separate. With layered glass, every Hyperlite deck will have the same pop off the double up year after year.
Base
Enduro Base – Enduro Base helps to prolong the life of your deck without sacrificing the ride. This exclusive base is a blend of lightweight durable materials to help your deck last longer. It also has very similar characteristics to traditional materials behind the boat so you don't have to worry about a slow draggy ride.
Additional Features
M6 Insert Pack