Rocker Type
Subtle 3-Stage Rocker – Blends the abrupt bigger pop of 3-stage rocker with the smoother predictability of continuous rocker.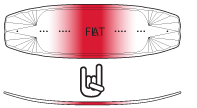 Hull
Spine – Full length centered spine for soft landings
Core
System 80 – A light density closed cell foam with forgiveness to perform at all levels
Base
Smorg – Laminated Nexus shell with UV protection, lightweight and very durable.
Fins
(2x) Molded-in Rails / (1x) Bolt-on Center Fin – Use the bolt-on center-fin for beginner riders getting comfortable in the wake. Remove it once the rider is ready for more open water. The 2 molded-in rails will still provide plenty of grip and tracking.