Rocker Type
Subtle 3-Stage Rocker – Blends the abrupt bigger pop of 3-stage rocker with the smoother predictability of continuous rocker.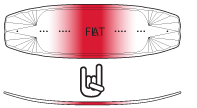 Hull
Spine – Full length centered spine for soft landings
Core
Pro Core – Super light density closed cell polyurethane foam proven to withstand pro level abuse.
Laminates
Carbon X pattern under foot for more energy up the wake
Base
infusion Base – A hybrid base formed in polished tools for increased speed and strength for wake and rails.
Fins
Stepped molded fins with removable .6" aluminum center fin.
Additional Features
Designed, shaped, and ridden by Mike Dowdy