Rocker Type
MTN Pop Rocker – Rocker between the feet for predictable fun times; camber in the nose and tail for powerful turns and tons of pop.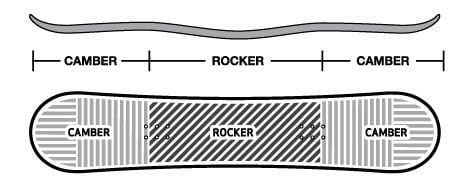 Shape
Almost Twin – Twin between contact points (what touches the snow is twin), flex is twin and stance is centered in a twin position. Outside of contact points, the nose is slightly longer than the tail for more float in powder
Quickrip Sidecut – Off-set sidecuts for loose fun at slow speeds, and responsive precision at high speeds

Core
SuperPop Core Matrix – Super snappy flex through the use of long poplar wood segments and three zones of low-density wood
TurboRods - Carbon Single Barrel – Evolution of the HotRod technology. Channels milled out in the core are replaced with carbon rods inside sleeves that are anchored to the core. The rod is attached to the sleeve only at the end nearest the center of the board. Dynamic pop and dampening. Rome brings you the next level.
Z-Tech 1.0 – Rome added a centerline band of Zylon to enhance the snowboards power. Zylon is a fiber that is lightweight, snappy, and extremely strong. The result of placing a 1" strip of Zylon increases your ollie pop without increasing the snowboards stiffness.

Laminates
StraightTriax 30 Laminate – Straighttriax 30 Laminate takes 30˚ fibers to deliver response for handling all terrain and flex for a park-friendly feel.

Base
SinterSpeed Base – The high-end sintered compound used for Rome's Sinterspeed Base absorb large amounts of wax for days of straight lining pow and bombing the local jump line at extremely high speeds.
Die-cut Base – Base color displayed may not be available. Base colors may vary.
Edges
Impact Edges – Wider and taller, provide better protection against impact damage
Binding Compatibility
Rome Snowboards will accommodate 2x4 and 4x4 insert patterns.