Rocker Type
C3 BTX – Mild Banana rocker is placed between your feet for carving, edge grip and improved floatation. The tip and tail have maximum pressure camber giving you precise control, power stability, and tons of pre-loaded pop.

Flex
Flex Rating: 4 - 6 (1 Soft - 10 Stiff) – A medium to medium-stiff flex ideal for a wide variety of conditions, from groomed runs to powder.
Shape
Directional – Tips float effortlessly in pow. Directional shapes focused on riding forward into the future. Great for traditionalists with an edge.
Core
Miraculous Aspen – The strong, powerful center beam of all Gnu cores.
Powerful Golden POP-lar – This light, lively wood reduces the snowboards weight while adding a crisp pop.
Amazing Paulownia – This energy regenerative wood is GNU's lightest and smoothest core material that significantly reduces vibrations and dampens harsh landings.
FSC Certified Wood Cores – FSC certification ensures that products come from responsibly managed forests that provide environmental, social and economic benefits.
Laminates
Bi ax / Tri ax – This is a glass and fiber reinforcement combination to give the snowboard a long life and plenty of pop.
Liquid Crystal Polymer – Plastic as strong as titanium created through a tempering process that aligns molecules in hyper strengthed polymer chains.
Sidewalls
UHMW Sintered Sidewalls – Ultra High Molecular Weight exterior sidewalls made from soy-based elastomer are laminated to five internal wood layers for totally bombproof sidewalls.
UHMW Tip and Tail Impact Protection
Birch Power Transfer Internal Sidewalls – These sidewalls transfer energy to the edges more rapidly. Aiming to give you unmatched control, pop, precision, and response.
Base
Sintered Base – This base material was made through an environmentally-friendly process without the use of toxic solvents or curtain coats. Compression hardened amorphous UHMW creates the toughest, fastest best wax holding base material around. For best results, wax regularly.
Die-Cut Base – Base color displayed may not be available. Base colors may vary.
Edges
Magne-Traction® – Strategically located serrations on your edges that create confidence-building, fatigue-reducing, edge hold all over the mountain especially on hard pack and ice.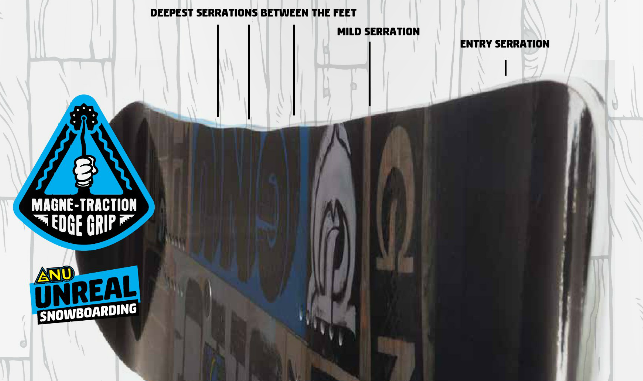 Topsheet
Bio-Beans Topsheet – No toxic chemicals or coatings, just beans! Gnu has made a commitment to using new earth friendly, bio-plastic top skin made from beans that feature the highest strength-to-weight ratio of any topsheet in the industry.
Graphics
Art by Adam Haynes
Additional Features
Eco-Unreal Construction – Gnu environmentally minded construction, principles and applied science has been combined together to deliver hand-built USA made snowboards in a sustainable and less environmentally harmful way than other snowboards on the market.
A portion of proceeds go to Boarding For Breast Cancer
Binding Compatibility
2 x 4 Insert Pattern