Flex
Responsive – Stiffer flex bindings are geared more towards advanced riders looking for more precision control at high speeds, whether it be in the park, pipe or anywhere on the mountain.
Baseplate
ShadowFit Baseplate – This ultralight baseplate gives you all the benefits of polyamide material but is much more responsive. Designed with a unique, flexible heel loop and a fully anatomical fit coupled with the strength of Kevlar Quickwire. The result is a high-performing, lightweight binding that encourages a more natural board flex.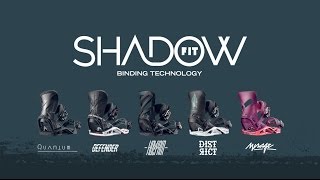 Kevlar Quickwire – For maximum support and quick transmission of any movement.
Universal Disc – Ultimate compatibility with all existing mounting systems on the market.
Integrated Mounting System (IMS) – IMS is Salomon's patented technology that keeps your disc screws in place while adjusting your binding angle or swapping out boards. You'll never drop a screw in the snow again.
Airbed Footbed | Canted SCS + Full EVA – This comfortable footbed offers a full EVA platform that absorbs shock and improves energy transmission from rider to board. The footbed has 2.5° of canting to intensify ollie power and heighten edge control for an unbelievable board feel.
Compo-Lit
Highback
Quantum Highback – A carbon constructed asymmetrical highback provides the support needed to make this binding a special operative that any charger calls in when top-notch control and lightning-fast reactivity is needed.
Straps
3D Asym Supreme Ankle Strap – An asymmetrical shape for increased support around the boot. Improving heel hold and comfort while keeping a perfectly anatomical fit to alleviate any pressure points.
Locked-Up Toe Strap – Ultra-lightweight and durable toe strap wraps seamlessly around the toe of the boot.
Micro Max Strap Adjustments – Easily adjust the strap length to optimized strap position over the boot for maximum comfort and support.
Buckles
Powerglide Aluminum Buckle – Quick and powerful ratchet, with a buttery-smooth release.
MP Ratchets – Highest performing and quality ratchet found on all Shadow Fit bindings. Better tightening, less ladder damage, more power and precision with each click.
Additional Features
Adjustable Toe Ramp – Super easy adjustability for the best possible transmission on toe edge.