Flex
Flex Rating: 3 (1 Soft - 10 Stiff) – Medium-Soft Flex designed for progression or freestyle riding.
Baseplate
Pro-Fusion Chassis – Tough, lightweight polycarbonate / On-board tool-less power ramp adjust / On-board toe strap mount position / Multi-position ankle strap mount
Adjustable Power Ramp – Tool-less Adjustment / Integrated with Full Seamless Footbed
Formed EVA Shockpads
Straps
Caddie Ankle Strap – Fully contoured 3D shape fits the boot perfectly / Narrower waist profile for freer flex / Tool-less cam lock centering
Cam Lock Centering – Tool-less and secure adjustment, allows you to precisely enter your straps with ease and speed.
Tool-less Universal Toe Strap – Wear it over the toe or on top of your boot / Cored for a lightweight and secure fit over the toe / Tool-less cam-lock adjust
Buckles
Hella RADchet – Designed with a wider tapered ladder opening allowing for an easy entry. The Radchets have cinch housing that keep the ratchet in position at all time. The levers are made of composite.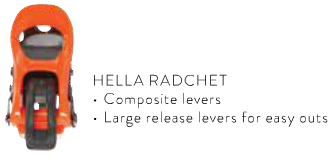 Highback
Grom Tweekback – Asym shaping to match your natural stance / Center spine for heel-side support / Thermo-formed EVA calfpad
Additional Features
Universal MC Disc – Mounts on 4-hole and slot systems. Powerhold washers for bomber locking power.