Flex
4 - 6 – Solid performance for any shred situation or style.
Baseplate
Tunable Tripod™ Chassis – Designed for natural flex and feel, this anatomically correct chassis features three power transmission pads that align with your foot's natural geometry. Also included is an on-board power ramp and toe strap adjustability, so you can tune and tweak the fit to match your natural riding movements.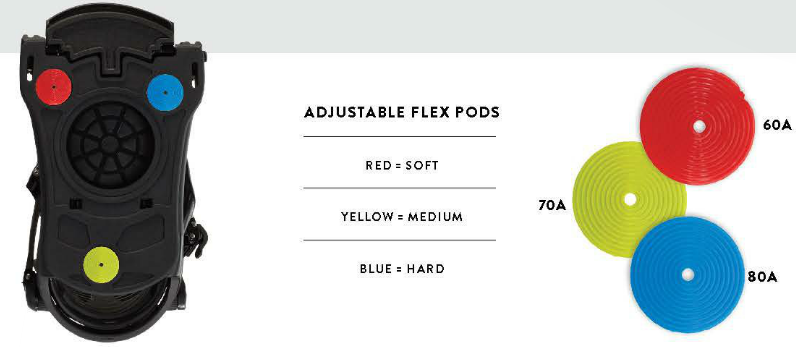 Adjustable Power Ramp – Tool-less adjustment design built right into the integrated, full-coverage, seamless footbed.
Canted Footbeds – Angled inward 3 degrees to match your natural leg position during riding. More support to the outside of the foot provides improved control and ollie pop. Reduces fatigue allowing you to ride longer and stronger.
Seamless EVA Footbed
EVA Basepad
Urethane Dampeners
Straps
Custom Caddi™ Ankle Strap – The foundation of K2's strap offerings, this proven design features ladder covers and a durable PU laminate.
Cam Lock™ Center Adjusting – Tool-less and secure adjustment allows you to precisely center your straps with ease and speed.
Tool-Less Universal™ Toe Strap – Tool-less strap centering allows for on-the-fly adjustment for superior fit and connection while its cored design shaves weight.
Buckles
Hella Radchet™ – Large release lever for super easy exit and resin composite construction for lightweight durability.
Friction Housings
Highback
PeaceBack™ – Urethane highback designed to balance flex and heelside support, the Peaceback is Women's Alliance approved and packed with features like tool-less forward lean adjustment and a super soft Thermo-formed EVA calfpad.
Additional Features
Cinch™ Technology – Cinch™ Technology represents superior engineering, innovation, and progression at its finest. Offering riders the response and performance of K2's traditional strap bindings and the on-the-fly convenience of cinch technology.
Mini MC Disc – The same design as K2's Universal MC Disc but with a more compact shape for less board flex interruption and enhanced board feel.